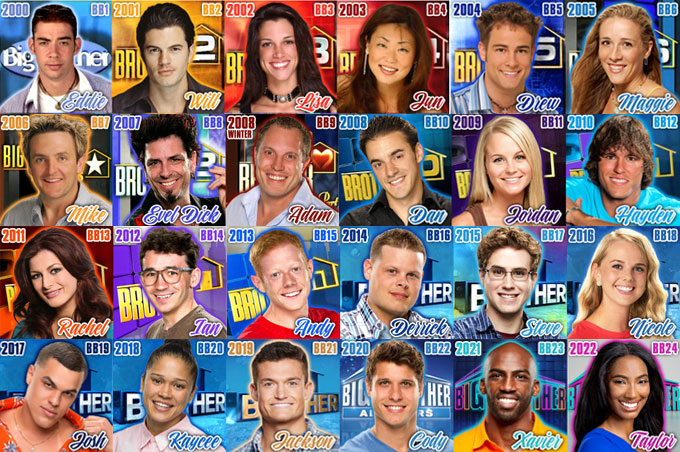 There's always that debate going on among Big Brother fans over who is the best winner. Depending on who you talk to there's usually a few standing choices. So after Big Brother 24 ended with the crowning of Taylor, the latest winner, we wanted to find out who our readers would pick as their favorite winner of all time.
We didn't ask who was the best player or most successful winner. Just simply, who is your favorite winner. And after thousands of votes, the results are in. We'll list the results in descending order to keep that suspense going for you a bit longer.
Who Is Your Favorite Big Brother Winner Results
24. Adam Jasinski, Big Brother 9. As one of the most controversial winner from one of the most unpopular seasons, it's no shock that the one-off winter season winner comes in dead last. Not only was their controversy surrounding Adam, he wasn't a popular player during the season, and has had virtually no public presence since BB9.
23. Jackson Michie, Big Brother 21. Like Adam, Jackson was not liked during the season and few people celebrated his win of that very contentious season of Big Brother. Jackson has been present on social media and has garnered his own following of non-Big Brother fans but it looks like that group never discovered this poll.
22. Maggie Ausburn, Big Brother 6. Historically one of the most disliked winners from arguably the most-hated alliance, is Maggie. So her coming in third to last is not at all a shock. Maggie wasn't actually a solid winner as far as gameplay went, but fans could never get past their dislike of her and The Nerd Herd.
21. Josh Martinez, Big Brother 19. I was never sure where Josh would land in this poll. I am a bit surprised he's so low since he's been on The Challenge since his season of Big Brother, but it looks like he hasn't picked up any new fans in the Big Brother community.
20. Lisa Donahue, Big Brother 3. Lisa being so low is kind of disappointing, but her win was so long ago, and practically everyone agrees that Danielle Reyes should have won that season, I guess this placement makes some sense.
19. Eddie McGee, Big Brother. First of all, Eddie being in this poll was kind of an odd choice to begin with. But I really didn't want to start with Big Brother 2. The fact that Eddie beat five other BB players is kind of telling. Actually, it says a few things: People really dislike Adam and Jackson. And 2., some people vote facetiously in any poll they see. That's to be expected.
18. Drew Daniel, Big Brother 5. I've never talked to anyone who has said "DUDE, DREW DANIEL IS MY FAV WINNER!" So this is about the spot I would have imagined him to land. Big Brother 5 was a solid season with some good gameplay, but I think most people would have preferred to see Diane make it to the end and win. Right?
17. Hayden Moss, Big Brother 12. I think Hayden's popularity has dropped in the past few years because of how he's presented himself on social media since his stint on Survivor. I think 16th makes sense for him. He's kind of a forgettable winner and wasn't a very strong character on BB12 to begin with.
16. Andy Herren, Big Brother 15. I am personally surprised Andy made it this high. I was sure he'd be lower simply because of how BB15 went down. Maybe the people who pay Andy to walk their dogs voted. Not sure.
15. Steve Moses, Big Brother 17. Steve could have been higher or lower, I think. He's kind of a boring winner, but he did cut Vanessa, so that gained him a lot of respect as one of the bolder BB winner moves.
14. Mike "Boogie" Malin, Big Brother 7. Boogie is always a BB enigma. Do we hate him or love him? It's always so hard to tell. He's such a BB staple and legend in his own right, but I don't think we really like him. Do we?
13. Cody Calafiore, Big Brother 22. I think a lot of Derrick's fans still spill over to Cody, so him landing right in the middle makes sense. I know a lot of people who really, really dislike him and his Big Brother 22 win, but he is still very present in the reality TV world and is even about to appear on Peacock's "The Traitor."
12. Xavier Prather, Big Brother 23. I think Xavier has a lot of respect as becoming the first Black player to win a regular season of Big Brother USA, but he was never going to be at the top of any popularity lists. A lot of people weren't fans of how he treated the women in his season, and I think that has stuck with him since his historic win.
11. Kaycee Clark, Big Brother 20. I think Kaycee almost making into the Top 10 might be one of the most surprising outcomes of this poll. First of all, I think in a poll of who should have won, Tyler or Kaycee, Tyler would win by a landslide. But I guess she has her own fanbase and has shown some more personality since appearing on "The Challenge."
10. Nicole Franzel, Big Brother 18. Nicole is a lot like Boogie, as odd as that is to even type. She's kind of a BB legend, but a lot of people dislike her, especially after her Big Brother 22 showing. I know she has a following and that's clear with these results, but I think for some people she might be the "best of the worst."
9. Ian Terry, Big Brother 14. I think Ian will always be a favorite, despite how many people think Dan should have won Big  Brother 14. Ian is likable, and how he was treated in Big Brother 22 by his fellow houseguests (including Nicole), I think he picked up some new fans.
8. Jun Song, Big Brother 4. I know a lot of people who will always choose Jun as their favorite winner. For a long time in the poll, she was in the Top 5, but some stronger fanbases got ahold of the poll, and our favorite floater finishes in the Top 8. Jun has maintained a pretty solid presence on social media and interacts with fans almost daily. So she knows how to keep her fanbase alive.
7. Evel Dick Donato, Big Brother 8. If Jun is good at keeping her fanbase alive, then Evel Dick is a pro at it. He has a very strong social media presence and interacts with BB fans every single day. He also hosts his own show covering Big Brother and Survivor, so it's no shock he is so high on the list.
6. Rachel Reilly, Big Brother 13. Rachel will always be one of the more divisive winners of Big Brother. A now reality TV legend (not just Big Brother), is one of those you love her or hate her persons. Rachel was seemingly born for reality TV, and is one of the main faces of the Big Brother USA franchise. Love her or hate her, She is Big Brother (yes, that's an "I am Vegas" reference).
5. Jordan Lloyd, Big Brother 11. If we were looking at stats and gameplay, there's no way Jordan would touch the Top 5 of this poll, but since this is a popularity poll, and people loved, and still do love, Jordan's southern charm, here she lands. She did know how to fight too (I'm laughing just thinking about her going off on Shelly in Big Brother 13), so maybe that has something to do with her eternal popularity.
Note: OK, it needs to be noted that the Top 4 went back and forth this whole time. All three of them were in first place multiple times and the final results were close. So, I think it's safe to say this is practically a four-way tie. There's always that debate of who's the best out of Dan and Dr. Will, and more recently Derrick. And with Taylor's recent dramatic and historic win, there's no surprises here that she's in the Top 4. Some might say it's recency bias, and that's something we do see a lot, but Taylor has a huge Twitter and Instagram fanbase, so time will tell whether her placement is recency bias or if she's really a new favorite.
4. Dr. Will Kirby, Big Brother 2. Dr. Will might be the best winner, or he might not be. Who can really say. He's definitely an absolute BB legend, and fourth place seems kind of low for him. But here we are.
3. Derrick Levasseur, Big Brother 16. Derrick ran BB16, and played a flawless (some say boring) game. Derrick is a lot like Rachel in the sense of you either love him or hate him. Derrick has done a great job maintaining his public persona, both appearing on True Crime shows on Investigation Discovery and hosting his own podcast with Cody, so he's put in the work. It's no surprise to me that Derrick cracked the Top 3.
2. Taylor Hale, Big Brother 24. Some people are going to love and totally get this placement. Others are going to scratch their heads and say huh. But I will say, 3 votes separated the first and second spots. So she almost won this whole poll. Sure a lot of people are still riding the high of her win and her now-official relationship with Joseph, but Taylor's popularity will have staying power. We are going to see a whole lot more from her.
1. Dan Gheesling, Big Brother 10. Dan seemed to get a boost in the poll as soon as Big Brother 10 and Big Brother 14 dropped on Netflix. It really does go to show how recency can impact a poll. That's not saying there's anything unfair about it. We just react differently when things are fresh in our minds. Dan has always been one of the top favorite winners of the US franchise. So I'm not at all surprised by him taking the top spot. And it says a lot about his impact because he has basically removed himself from the Big Brother world. He tweeted the past two seasons to congratulate fellow Michigan winners Xavier and Taylor, but other than that he's pretty much retired from Big Brother it seems. He does have a strong presence in the gaming world and is still very active on Twitch, I believe, so he has a whole different group of followers now as well.
What do you think of the poll results? What are you most surprised about?
Thanks to Big Brother Junkie (@89razorskate20 on Twitter) for the amazing winners graphic.
Big Brother Winners Photo Gallery