One of the best features of the Big Brother Live Feeds is how you can rewind to any time in the season to watch any big events or strategic moments you might have missed over the season. It's a massive advantage of Feeds deliveries from long ago or even the current BBCAN system.
Download this how-to guide on Live Feed Flashback use for easy reference. (pdf file format)
Important note: Flashback is only available in a desktop browser, but on your mobile device you may be able to use the Puffin browser (free) to create a desktop-like view and access Flashback functionality.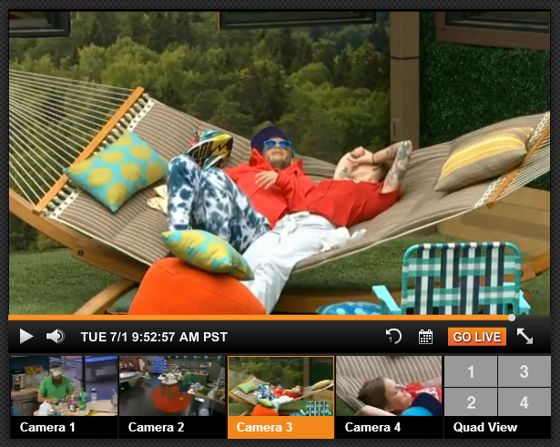 But one downside to this feature is a lot of users either aren't aware of it while others aren't sure how to work it. Let's fix that issue with a few quick steps on how to use the Big Brother Live Feed Flashback and Rewind features to access the season's archives.
First, go to the regular Live Feeds page (visit this link here). Once the Feed Viewer has finished loading click the small calendar icon above the "Camera 4" preview window below the main window.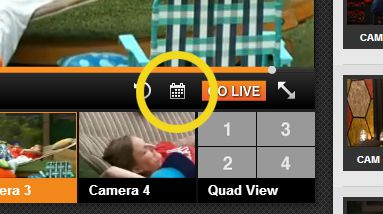 This will pull up a calendar where you can select the month, day, and hour. Be sure to also note the unlabeled camera option in the drop down menu to the far right under the calendar.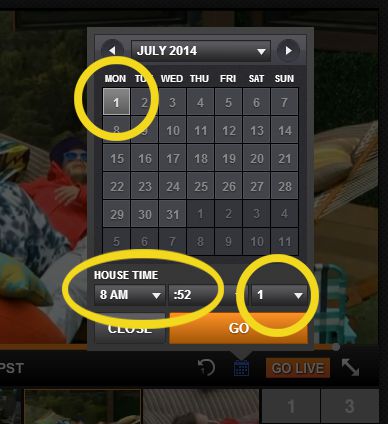 Here you can pick 1-4 or Quad Cam to see all four at once. That's sometimes most helpful for finding the action at a time and then using the preview windows during Flashback to change your camera view. Note: you do not have to go back to the calendar option to change your camera view once you're actively watching a Rewind moment on the Feeds.
If you don't have a particular time you want to watch then try checking the timeline for Highlights. These are tiny blue tick marks on the orange timeline. When you mouseover the blue mark a window will appear with the description of the Highlight event. Click "Watch" to do so.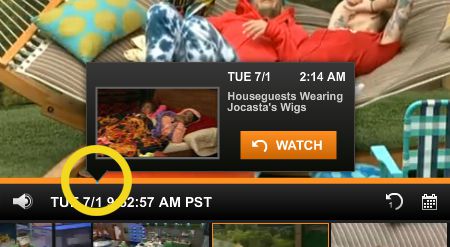 Another option is to go to the Highlights tab on the Feeds page and scroll through your recent options there. You can even narrow your search under Highlights to Houseguests you want to see. That's pretty cool. (I didn't even know that was there!)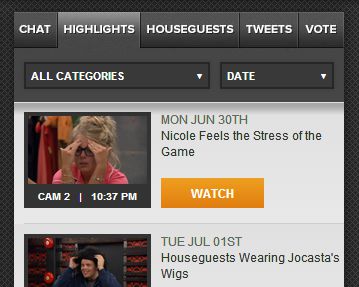 Still got any question on how to use your Live Feeds archive features? Leave them in the Comments section below and I'll do my best to help. If you have account or technical "it doesn't work on my device" questions then unfortunately I can not help you with those and you'd need to contact CBS.
Couple of caveats. The Flashback feature is not available on mobile devices (tablets, phones, etc.) with CBS's app. You should however still have access to the same day's timeline where you can scroll back until midnight to rewatch events you may have missed earlier in the day. There are also browsers which imitate a desktop view which would give you Flashback access from your mobile device as well.