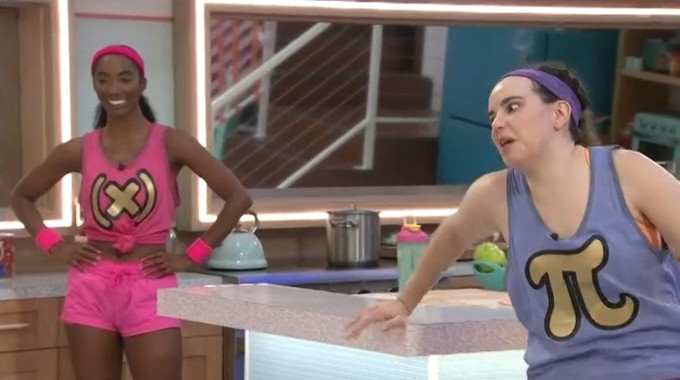 It's our last weekend roundup for Big Brother spoilers! The HGs have been racing all season and now we're down to the final stretch. Just a few more events to share and then the HGs will be ready for finale night on Sunday, Sept 25th. Read on for all the latest and what's coming up next on Big Brother 24.
Head of Household:
You should have already seen the HOH as part of last Thursday's episode but in case you're really behind, it was Taylor who emerged from the tiebreaker eviction to become the new HOH. That win secured her a spot in the F3 for finale night.
Read who is the HOH for Week 11 >>
Nominations:
Noms are mostly irrelevant during the F4 round because it's all about the Veto, but still it's a chance to show were your loyalties lie and give a boost of trust to one of the remaining HGs. This time around that perk went to Monte. Taylor camtalked that she was simply going to use the line that one of these two HGs voted against her so she's making sure he or she is on the Block. Easy enough.
Read who was nominated in Week 11 >>
Power of Veto Competition:
Here's the important one. Winning the Veto means a sure spot in the F3 and if that HG isn't already the HOH then it's also the chance to decide who would be in the third seat of the F3. Kinda more powerful than the HOH this week, huh? No pressure, HGs. It's pretty much a split comp as Taylor was playing to keep Brittany and Monte was working to protect Turner. So who came out on top?
Read who won the Power of Veto in Week 11 >>
Power of Veto Meeting / Eviction:
In most every other week of the Big Brother season we get the Veto meeting on Mondays but this week is much different, as noted above. Instead of a mid-week event the Veto meeting is wrapped up into the eviction vote because there's just one vote and no need to go into the DR for that one. The Veto holder will decide whether or not the Veto gets used (won't be used this time) and then who is out the door to Jury just shy of the finale.
Read who is going to be evicted with the Veto in Week 11 >>
What do you think of this weekend's Big Brother spoilers? Are you happy with the results or did you want someone else to pull off the win? If you have our Big Brother App then you received alert notifications as these results arrived. If you don't have it, then be sure to download our app now!