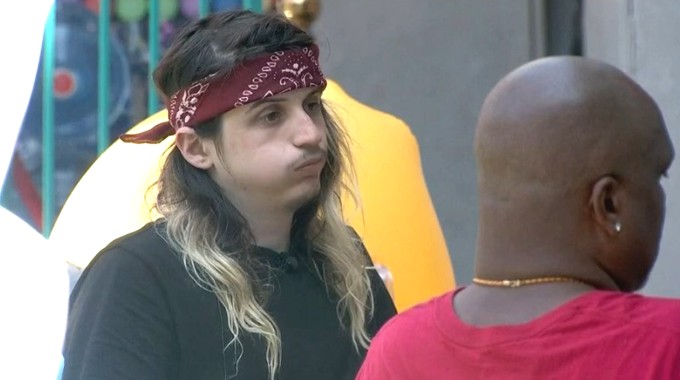 The Big Brother spoilers keep rolling on BB24 and these Houseguests have been at it again this weekend. Actually, they've been double timing with the two sides of the house leading their own round of events for the Nominations and Veto events. You've got a lot to catch up for Big Brother 24 this weekend so read on for the latest from the Live Feeds.
Split House Groups:
Michael took over to Big BroChella while Terrance was banished to Dyre Fest in the backyard. So who did each of them pick? Michael was showing off his strategy to secure his target and his closest ally. Meanwhile, I'm not sure about Terrance's strategy here, but at least that's consistent for the season!
Read who is in each group for Week 7 >>
Nominations:
Like I said, Michael has a target and once again he's using the BB24 tried and true method of "oh, it's not *you* I want out, it's that other bigger target." Hook, line, and sinker. Now on the other side, things are getting messy. One of the HGs at Dyre Fest decided to try and burn his way out of the Leftovers. We'll have to see how that works out for him.
Read who was nominated in Week 7 >>
Power of Veto Competition:
I guess production said two Veto comps in one afternoon would be too much so BroChella was called to the arena overnight. The winner of the medallion should be lining up with the HOH's wishes and we'll see Michael's planned pulled off without a hitch. The outdoor group had their comp at the usual time and with the stakes incredibly high for the target it was a disappointment for his fans.
Read who won the Power of Veto in Week 7 >>
Power of Veto Meeting:
Veto Meetings are usually on Monday but you saw how production moved up one of the Veto comps. It's possible we'll get a jumbled arrangement on the meetings too, but no idea so far. But anyway it's delivered, the results are expected to be the same. Neither Veto will be played, the noms will stay the same, and the targets remain just where they are: Joseph & Jasmine.
What do you think of this weekend's Big Brother spoilers? Are you happy with the results or did you want someone else to pull off the win? If you have our Big Brother App then you received alert notifications as these results arrived. If you don't have it, then be sure to download our app now!