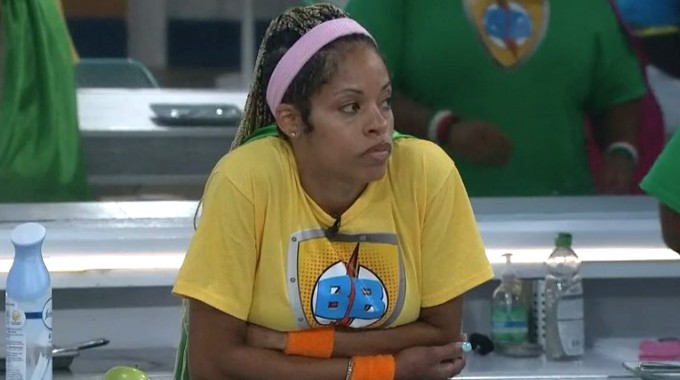 We've got all your Big Brother spoilers since Thursday's BB23 live show ended and the Cookout, the last six Houseguests, have been busy inside the house making moves as they finally have to turn on each other. Find out who won HOH, which two HGs hit the Block, and what this weekend's Veto comp results tell us for the next eviction. Read on for all the latest BB23 spoilers!
Head of Household Comp:
Everyone but Tiffany was eligible to compete in the latest HOH comp and guess who was in the most danger this round. Yep, Tiffany. So she really needed her closest ally in Hannah to take the win. Didn't happen. Instead, we get the third round of Kyland's HOH (fourth if you count his puppet controlled week over Sarah).
Read more on who won HOH in Week 10 >>
Nominations:
Tiffany and Hannah had been working on Kyland for awhile and thought they were in a good position with them. Tiffany expected she could be in danger but why would Kyland want to keep Xavier, the biggest threat to all their games, around with a chance at F2? Kyland wants to be at the end with the best and as much as he wants to keep Tiffany to see her and X in their F3, he knows the rest of the house is against that plan. So up she goes.
Read more on who was nominated in Week 10 >>
Power of Veto Competition:
BB Comics returned and this was Tiffany's sole self-controlled shot at safety for the week but it wasn't meant to be as the power this week has been consolidated in one spot. Now Tiffany needs to convince the HOH that his best interests doesn't include sending her out but keeping her to fight together and instead sending his true threat to the win out the door.
Read who won the Veto in Week 10 >>
Power of Veto Meeting:
Tiffany has a tough battle here but she's a fighter and she's smart. Kyland is equally stubborn though and I don't expect her to sway his decision. He's mentally in deep with Xavier and will want to ride to the end with him to "unlock his potential" as Kyland has described it. Kyland is probably going to regret that move, but I'm thinking he's got his mind set on it for now.
What do you think of this weekend's Big Brother spoilers? Are you happy with the results or did you want someone else to pull off the wins? If you have our Big Brother App then you received alert notifications as these results arrived. If you don't have it, then be sure to download our app now!