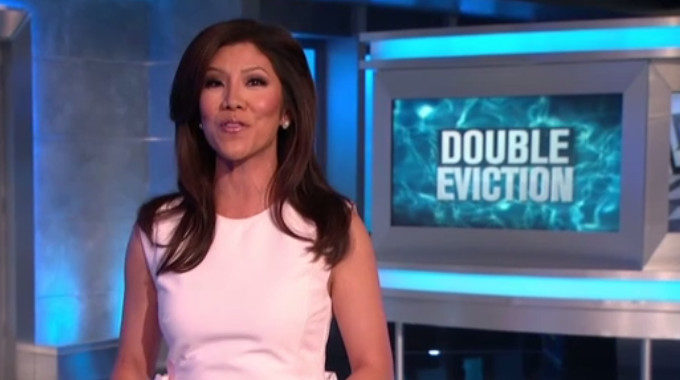 Twice the fun on Thursday as the Double Eviction revealed who was voted out last night on Big Brother 23 and which Houseguests would make the F6, taking us into the final weeks of the BB23 season. There was no room for error here with Alyssa's game and she would need to thread the needle to make it through the night against the somewhat secret alliance of the Cookout. Which way did the DE go? Let's find out!
Don't miss this week's Double Eviction episode! You can stream the episode live on CBS's Paramount+ with the legacy plan or the new Premium plan in most markets across the US and the HOH comp on either plan so you don't have to miss any of the fun even if you're out tonight.


Try Live Feeds 1 Week Free! Only $4.99 per month thereafter. Sign-up now.
It's going to be a jam-packed hour-long show this week (and a two-hour DE show next week, so who knows on that) and we'll run through the first eviction, an HOH comp, nominations, Veto comp, Veto meeting, and finally another eviction. The next HOH comp will likely be later tonight and held off-cam from the Feeds but we'll be watching for those spoilers too and will keep you updated all through the show and after.
Big Brother 23 Results – Week 9 Votes:
Alyssa votes to evict: Claire
Hannah votes to evict: Xavier
Derek F votes to evict: Claire
Azah votes to evict: Claire
Kyland votes to evict: Claire
By a vote of 4-1, Claire has been evicted from BB23.
Now the HGs will need to hustle out back to the yard where a new Head of Household will be crowned and this one will last even shorter than Tiffany's first HOH win! The winner here will decide on two quick nominees and could determine if the Cookout makes F6.
Big Brother 23 Results – Week 9.5 HOH:
Round 1: Everyone but DF gets a point
Round 2: Everyone but Azah gets a point
Round 3: Kyland, X, DF, and Hannah get a point
Round 4: DF and Hannah get a point
Round 5: Azah and Kyland get a point
Round 6: Alyssa and Hannah get a point
Round 7: Hannah gets the point and keeps her lead!
Hannah is the new HOH! Congratulations to Hannah! Her noms are coming up quickly!
Before things cut to commercials Hannah did speedy one on ones and told Xavier he'd be going up then she next told Alyssa that Xavier was her target so she was going up next to him. But obviously, we know the plan is to evict Alyssa. Alyssa will need to win Veto to survive the night.
Big Brother 23 Results – Week 9.5 Nominations:
Hannah nominates: Alyssa & Xavier
Noms are set but there's a second chance at safety with the Veto competition. This will be fast and furious and will forever be a Clown Shoe memory for me. Hah!
Big Brother 23 Results – Week 9.5 PoV Comp:
That should make it a lock for the Cookout to reach Final 6 with an expected Alyssa eviction here. The ceremony and second eviction vote are coming up shortly.
Big Brother 23 Results – Week 9.5 Veto Ceremony:
Xavier saves himself with the Veto
Hannah names Kyland as the renom
Final noms of the round: Alyssa & Kyland
Big Brother 23 Results – Week 9.5 Votes:
Azah votes to evict: Alyssa
Tiffany votes to evict: Alyssa
Xavier votes to evict: Kyland
Derek F votes to evict: Alyssa
By a vote of 3-1, Alyssa has been evicted from Big Brother.
We're down to our F6 of the Big Brother 23 season. Congratulations to all the HGs who made it. Quite an accomplishment for The Cookout! Now it's time to crown a new Head of Household! But not just yet. Watch for those HOH results later tonight and we'll keep you updated.
Big Brother 23 Results – Week 10 HOH:
After the show, we'll be heading back to the Live Feeds to watch the fallout over who won HOH & the start of the next rounds of planning for this week's target. Grab the Free Trial and join us there now!
Want more? Download our free Big Brother App, join us on Facebook & Twitter, and get our Email Updates! We'll keep you updated with the latest news and our in-depth reviews of the season.