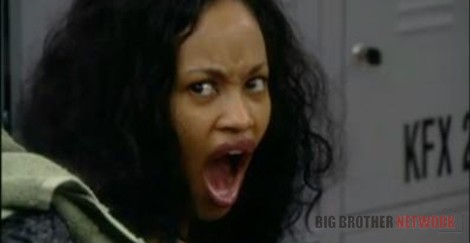 This is not a joke. This is not a rumor.
Chima quits Big Brother and has been removed from the house!!
Official Update: CBS released a statement confirming Chima Simone was expelled by the producers and not by her choosing. Scroll to the bottom for the press release.
Overnight Chima was allowed to leave removed from the house and she is now gone from BB11. You can watch the events leading up to the eviction on the live feeds using the Flashback feature. That's what I've been doing all morning!
Possible insider leak: An anonymous tipster sent me details from what we couldn't see once the feeds went to fishies. Scroll to the bottom to read details.
Details on Chima's removal from Big Brother:
9:50 PM – The PoV competition is set up for practice. Kevin goes to wake Chima to come out and give it a try since she's nominated. Chima gets up without her microphone and goes out.
9:55 PM – Big Brother tells Chima to put on her mic. She refuses.
10:00 PM – Kevin kindly goes and gets Chima's mic for her. Natalie runs it to Chima who immediately throws it in the hot tub. Natalie goes to fish it out of the hot tub and tells Chima that maybe she won't have to practice afterall (hah!).
11:00 PM – Big Brother tells Chima to replace her mic. She refuses so Kevin gets it for her, again. Chima tells production to, um, put something in their mouths and create a vaccum…
11:15 PM – Big Brother has to ask Chima again to put back on her mic.
2:45 AM – Live Feeds are back and Chima is missing. Jeff says, "and then there were seven."
Rumor has it that during the downtime in the feeds a house meeting was held. Chima was told she'd have to pay for the microphone she destroyed. Chima reacted as you'd expect Chima to react and she was removed from the house.

In past seasons the Big Brother rulebook has read that if the jury is short one member then production can use America's Vote to backfill. That'd be awesome.
In all the seasons of Big Brother I believe this is only the fourth removal from the game, but the very first Drop Out Request (DOR). Chima won't be missed.
All the HGs are still up on the live feeds. Jump on right now with the Free Trial to see what happened.
Leave your thoughts on what has happened.
click images to enlarge
Update: I was just checking cbs.com to see if Chima's details had been removed when I saw her bio and had a good chuckle. Did they let Chima write this??
An exotic beauty, Chima is truly as beautiful on the inside as she is on the outside.
Oh yes, truly as beautiful. Truly.
Update 2: Okay here's what I received just now on what happened. The tipster believes this to be a credible source based on past details and it synch's up closely with what we had heard so far. Until I can directly confirm please take this with a grain of salt:
Mike: Hey Guys, can you all come into the Livingroom please? We need to have a house meeting.

…. … they speak …. ….

AG [Allison Grodner]: You will be paying for the mic pack Chima, this will come out your stipend.

Chima: You know what? ***** this *****. I'm outta here. love you, nat–you too Lydia. *throws something* (her mic?)

She presses the diary room button, it doesn't go green, she tries to pull the door open (EVERYONE is in the living room sitting down btw) and Chima says "don't ***** with me, open this damn door. NOW!"

Then Nat and Lydia want to leave with her, but production asks them to remain a moment..

AG: Everyone, PLEASE calm down!

Lydia gets up and tries to open the DR door, bangs on it, crying.

Chima was SCREAMING at AG! The entire control room was told to record everything in case something happened. Security may have been there too.
So what do you think now? Seems very plausible and goes with the story that Chima had refused to pay for the mic. Too bad she thought the mic must have cost more than the $500,000 she was just a few people away from possibly winning. Not a smart move…
Update 3: Kevin just revealed on the live feeds that Chima will be banned from all media outlets owned by Viacom (CBS' parent company) that includes places like MTV, VH1 (Sorry, no 'Chima of Love' then, gag), BET, etc. Kevin also warned her against slandering the BB production because they'll sue her, but she told him she "has friends." Delusional to the very end. He also pointed out Chima's picture has still not being 'grayed out.'
Update 4: CBS released this press statement today semi-clarifying Chima's eviction though they note the full details will not be released until a future episode. I'm guessing we'll see it on Tuesday night's Big Brother show.
"Chima has been evicted by the producers from the Big Brother house for violating the rules. She will not be part of the show's jury. Her eviction will be addressed on an upcoming broadcast of the show."
Did producers truly evict Chima or did they allow her to leave but and then decide to say it was their choice? With Chima's blockade from media interviews I doubt we'll ever know for sure.
Update 5: Chima has released a statement via Examiner.com since CBS and all CBS related outlets have banned her. You should read the full statement from Chima at SmallScreenScoop.com, but don't be surprised that Chima blames everyone but herself for her eviction.
I've never seen so much action in this house! You can get the 24/7 uncensored feeds with the Free Trial so why are you waiting?! Start watching now!
Be sure to sign-up for the free Big Brother email updates, register for the Big Brother Forum, follow us on Twitter, and grab the free Big Brother Toolbar.