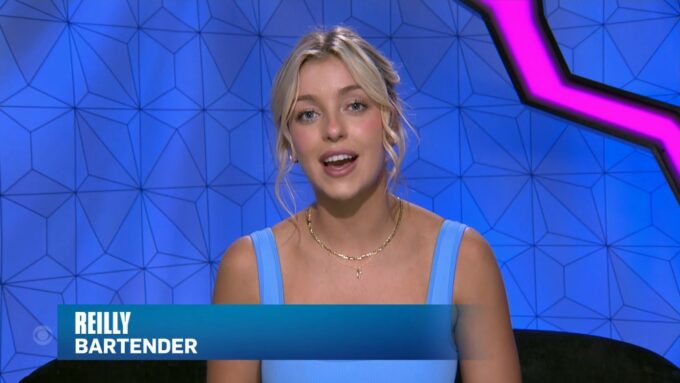 Big Brother 25 Houseguest Reilly Smedley is having a bit of a week here and whether she knows it or not (probably not) her alliance and support is falling away quickly and at a really bad time for her game. Just last week Reilly was riding high as the Head of Household and ringleader of The Handful, an alliance of five including Blue, Cameron, Jag, and Matt. But when the going gets tough, the Handful apparently goes away.
When Hisam was crowned the new HOH it did not take him long to figure out who he wanted out of the house. Just a few days before he became aware that Reilly was considering him as a target and now it was his chance to eliminate that threat. Right up on the Block went Reilly along with her ally Cameron. The Handful really had not done a good job of hiding their position as Hisam (and probably everyone else at some point) had watched that group gathering upstairs repeatedly. No brainer decision for him on this one.
So with two members of the Handful on the Block it was up to the others to save them! Right? Wait, right guys? Well, maybe not.
Overnight Jag and Blue met in the hammock to have a long talk over the state of their alliance and what they could do for Reilly. It was obvious that Reilly was the main target, Hisam had made that clear, so what if they were selected to play Veto and won? Could they save Reilly? Probably not, the pair concluded.
Flashback to 11:35 PM BBT 8/11 to listen as Jag and Blue discuss the situation. They worry that saving Reilly at this point would just be cutting off one of their own legs in the process (is that really a saying?). It'd be difficult to recover and align with someone so strongly targeted and what would it do to their own games in the process.
Instead of coming up with a strategy to rescue and reunite their alliance we saw Jag and Blue shake on a new F2 between each other. You'll remember Jag and previously made this same arrangement with Reilly and here he was already letting that go.
Now I don't think that's entirely a terrible idea at some later point to cut your losses with Reilly, but the Veto hasn't even been played yet! Shouldn't they look for options first and hope for a new public enemy #1 for the house to get the target off their ally? Who needs enemies in the house when you've got allies like these, huh?
Speaking of the Veto, the PoV players draw was super friendly to Reilly and The Handful. America, Blue, and Matt were picked to play. Have mercy that was lucky for them. I'm sure Jag was relieved to not be in a position to win and have to save (or not save) one of his two allies, but Reilly and Cameron have to be feeling really good about this now, even if they shouldn't.
We'll have to see what happens later today in the Veto comp. Reilly should be fighting hard for his because if the vote was tonight and she were sitting on the Block then I expected she'd be out the door right behind Kirsten. A lot can change before Thursday, but I'm not expecting allies to work too hard for her safety. What do you think Matt, Blue, or America would do if they won the Veto this week? Save Reilly, Cameron, or neither? Share your thoughts!
Want more Big Brother 25? Join us on Facebook and Twitter and download our Big Brother App!