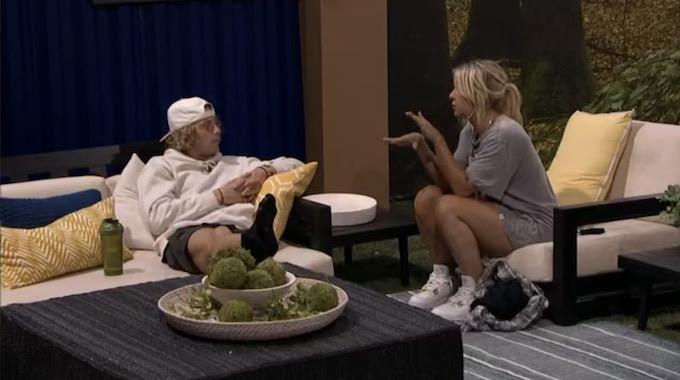 We ended Thursday night's episode of Big Brother 25 with Kirsten becoming the first evicted houseguest of the season. We then patiently awaited for the feeds to return after the Head of Household Competition for Week 2 of Big Brother after being down for over 36 hours. Now that we know which Big Brother houseguest is calling the shots this week, we have a pretty good idea about who will be put on the chopping block at the Nomination Ceremony set to take place Friday.
In case you haven't caught up on the spoilers so far for Week 2 of Big Brother, Hisam won the Head of Household Competition this week and Jared is currently sitting in the Nether Region. While we have no idea when Jared will return to the house, there is no reason to believe that he would be in any trouble this week. We also know, based on a conversation Hisam had with Felicia last night in the storage room, that Felicia will not be seeing the block this week either. In fact, I think it's safe to say that Felicia, Izzy, Cirie, Bowie, and Mecole should all be in the clear.
As for the other side of the house, they definitely have something to worry about with Hisam winning the HOH because he plans to keep two of their numbers on the block. Reilly is very nervous about seeing the block since it was revealed that she would target Hisam and Izzy if given the opportunity. Cameron thinks that he is safe from the block this week and thinks that Hisam will likely lean more toward putting Cory on the block since Hisam and Cory have had a rocky start with building any kind of game relationship.
Friday morning on the live feeds, Hisam told Felicia that he wants to hear everyone in the house say that they want Reilly out because that will give him enough reason to do it. He also says that he doesn't like backdooring people because he thinks it's cowardly. He plans to put Cameron up next to Reilly because he would likely take her down if he wins Veto. However, during their chats with Hisam today, Reilly's allies plan on throwing America and Cory's names out there when they talk to Hisam. This could throw a wrench in what Hisam sees as a flawless plan.
Based on what we have heard since Hisam won HOH, Reilly is his primary target, but if she should win the Veto or if someone saves her with the Veto, then Cameron would become the new target. Do you think this is the right move for Hisam? Or is there a different option that could be more beneficial to him and his allies?
Download our Big Brother App, join us on Facebook & Twitter, and get our Email Updates for more!