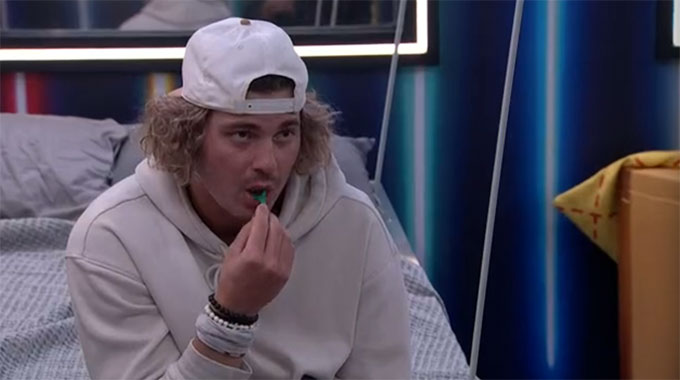 The Big Brother 25 houseguests continued to deal with the fallout from Jared and Cameron's undead return to the house. Jared revealed everything he knew about almost everything in the game, and Cameron got to work building allies for his potential return to the game through the Big Brother Zombie twist. And at this point from the spoiler results, it seems like Cameron has a better shot at returning as Jared seems far more defeated.
Read on to find out how everyone is reacting to what really feels like a game reset with alliances shifting and more secrets being revealed.
Try Live Feeds 1 Month Free! Code: BIGBROTHER25 Sign-up now!
Don't forget to sign up for the Big Brother Live Feeds right now so you don't miss anything else this season. Anything you want to watch from our Highlights report is always available using the rewind feature to pick any day, time, and camera to watch it again. Enjoy!
ALERT: Join our NEW Facebook Page for BBN after FB disabled our old one. We need to reconnect with you on Facebook! Please spread the word and share our content on FB so we can quickly rebuild. Thank you!
Be sure to read Friday's Daytime Highlights before moving on to the overnight report.
Big Brother 25 Live Feed Highlights – Friday, September 22, 2023:
3:06 PM BBT – Felicia says she's exhausted by all the conversations. Cirie says she's barely had any conversations today.

3:09 PM BBT – Cameron tells Matt that if he, Jag and Blue give him just one week of trust they can demolish this house. Cameron says the last thing anyone wants is for Cameron and Matt and Jag to team up.

3:12 PM BBT – Felicia tells Cirie and Jared that Cory knows the name of the Brown Sugar Babes. Felicia says he didn't hear it from her. She says he even said the name of the alliance. Cirie and Jared say Cory didn't mention that alliance when he and Jared were arguing. Cirie says so he must have found out since that argument.

3:14 PM BBT – Felicia says she also heard that she was disposable to them and that they had these other alliances that didn't include her. Cirie acts shocked. Felicia says she's just heard to much stuff she can't even keep her head on straight. Cirie says they need to have a house meeting. Felicia says they really should and just call everyone out.

3:16 PM BBT – Jared says Mecole told him Cory said he knew about the Brown Sugar Babes since Week 3. They don't know if Mecole told him but they can't image why she would do that.

3:20 PM BBT – Cameron lets Matt know that Jared told him Matt got to play in the comp BB fans voted on. He says Jared spilled everything he could to Cameron.

5:05 PM BBT – Matt and Cory discuss how to handle the Cameron situation in case he is the one who returns to the game. They aren't sure exactly how to proceed. Cory asks Matt how his talk went with Cirie. Matt says it was kind of a whatever, agree to disagree situation.

4:20 PM BBT – America talking to Matt and Jag about Cirie and Jared denying everything still to Felicia. They say they have all told Felicia so it's up to her to believe it.

4:42 PM BBT – Felicia tells Blue she doesn't know what to think and who to trust. She says she thought of Jared like a son, so it was hard for her to digest anything about him working against her. She says she has no idea who to trust moving forward.

5:02 PM BBT – Jag and Matt talking about teaming up with Cameron. Matt tells Jag that Cameron really wants that to happen. They talk about all the comp wins between them and how they could be unstoppable. Matt says Cameron said to use him for just a week, but Matt said he wouldn't do that – they can just work together for real.

5:03 PM BBT – Matt says they need to go after the people who haven't done anything. He says they've all been playing and fighting and some people are just drifting by.

5:04 PM BBT – Jag says Cameron is trying to work all angles, though, so they still have to be careful. Jag says Cameron is also trying to get with Cory and America. They understand he has to do what he can to try to regain some kind of footing in the game.

6:15 PM BBT – Houseguests cooking dinner.

6:30 PM BBT – Cory and America both say they haven't really spoken to Cirie after Jared's eviction. America says she did tell her it was never going to be Cirie – it was always just Jared. Cory says he's going to tell her that too.

7:08 PM BBT – Jag tells Cory he needs to talk to Blue. Jag says Blue needs to know that Cirie and Felicia were trying to get Bowie and Mecole to vote out Blue over Jared during the double eviction.

8:09 PM BBT – Jag tells Matt and Cameron that last week America and Cory were in a do or die situation last week and they were in last place in the veto. Cameron says him, Matt and Jag can beat everyone in the house in any physical comps. Jag says if the three of them don't link up they're going to all be next. Jag says the moment one of them (Jag, Matt, Cameron) slip then everyone in the house will target them.

8:12 PM BBT – Matt and Jag says the three of them can cycle through the competitions, but they need to find someone else. Cameron asks if they can trust Blue. Jag says if Jared is out they can trust her more. Cameron says if Jared comes back, he'd go right back to the core and not change things up like they're all willing to do.

8:20 PM BBT – Cirie and Blue discuss Mecole. They agree she doesn't say much, but can be trusted. Cirie says if Mecole feels that trust is broken then she's just done. They agree that Mecole is a solid ally. Blue says no one ever says "Mecole says this, Mecole says that." Cirie tells Blue just to take baby steps with Mecole. She says build the trust with her and it'll be unshakable.

8:40 PM BBT – Blue, Cameron, Jag, and Matt are meeting in the HN room. Blue says she'd like to be able to trust Cameron, but they haven't talked much before this. Cameron says now that he's isolated it'll be easier for him to connect and grow trust.

9:00 PM BBT – Cirie giving Jared a pep talk and trying to encourage him even though she knows he must feel down.

9:10 PM BBT – Cameron lets Jared know he plans to take the option to compete on Thursday instead of passing it to Jared. Jared congratulates Cameron on his win today.

9:50 PM BBT – Jared talks with Matt and says he understands why Matt voted against him. Jared promises him they're still friends and if he stays he's not after him. Matt returns the promise.

10:05 PM BBT – Blue checks in with Cirie. She tells Cirie that she's still with Jag but won't be aligning with Cory and America. Blue promises to help protect Cirie.

10:55 PM BBT – Cory discusses his approach for auditioning and how he wanted to take the Ian Terry angle of being the nerd who fought off the bro type.

11:05 PM BBT – Jared talking with Jag. Jag shares how he learned he was becoming a top target which he didn't think was fair after working hard to show his loyalty only to find out everyone was good with voting him out.

11:05 PM BBT – Matt lets Cory and America know that Jared shared with Cameron how Matt won the Power.

11:30 PM BBT – Jared continues to talk with Jag. They've been there for a solid hour.

11:35 PM BBT – Matt and Cory discuss how mean Cirie and Izzy had been toward Bowie Jane. Matt wishes he had said something when it was happening in front of him. They wonder if Izzy is a bit of a bully. Cory mentions his surprise at that realization considering Izzy had at one point been his #2.

12:05 AM BBT – Cory, America, Matt, and Blue talking. They ask Blue if she knew Jared was in an alliance with Mecole, Cirie, and Felicia. Blue denies knowing about that. They assure her it was real.

12:35 AM BBT – Cameron trying to convince Matt that he (C) was not the right target and Cory persuaded Matt.

1:05 AM BBT – Blue lets Jared know that she's been talking with Cirie and trying to build something there.

1:20 AM BBT – Jared tells Blue that if he gets to reenter the game then he's going on the attack.

1:30 AM BBT – Late night snack time in the kitchen. HGs making a pizza.

2:15 AM BBT – Lights out for the HGs.
We know that Cameron has won the Zombie battle and will take his swing on Thursday night. Now it's just a wait and see, unless there's more surprise comps ahead this week. We're going to need something to fill the next five days!
You can watch all of these Big Brother events using the archives Flashback, the DVR-like feature of this year's Live Feeds which means it's always live, even when you missed it! Sign-up now and get the free trial to watch it all live & uncensored. Use promo code BIGBROTHER25 for one free month.

Gallery: Live Feeds Highlights
Download our Big Brother App and join us on Facebook & Twitter for more!