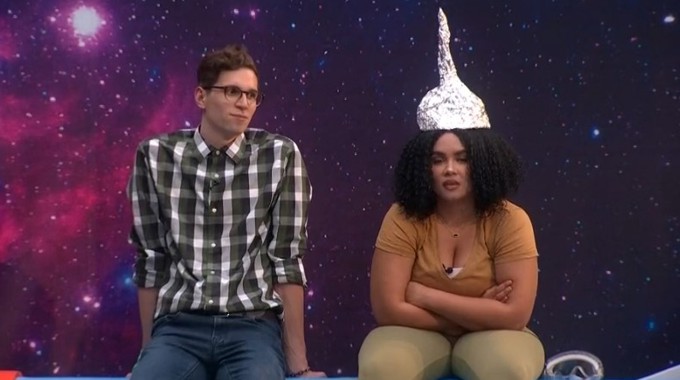 The Big Brother spoilers keep rolling on BB24 and these Houseguests do not disappoint. Let's catch you up on everything that's gone down in the Big Brother house since Julie said goodnight after Thursday's eviction. We've cleared the HOH competition, Nominations, and even the Power of Veto comp which brought back the always-messy Prizes & Punishments.
Let's get you caught up on all the spoilers and results from the BB24 Live Feeds the past few days.
Head of Household:
The Wall greeted the HGs as they stepped outside after evicting Daniel. This one tends to favor the slender, lighter HGs and this time around was no different. We even heard confirmation from the runner-up that this comp was not thrown, it was earned by the winner.
Read who won Head of Household in Week 6 >>
Nominations:
The Leftovers are keeping their seat warm in the HOH room and that's keeping them also in control of the Block. At some point, they're going to turn on each other, but maybe not just yet. These two nominees have both been told there's a bigger target but that might not be the case this week after all.
Read who was nominated in Week 6 >>
Power of Veto Competition:
In case you hadn't heard, Jasmine has a birthday this week and nobody better do her wrong with a punishment to go with it. When Feeds returned we had the winner and the same bad idea was still be floated around for using a pawn as the renom. Or maybe not. The winner has caught wind of a plan to evict his ally and that might keep things just as they are.
Read who won the Power of Veto in Week 6 >>
Power of Veto Meeting:
I don't think we're going to see the medallion put into play on Monday. With his showmance at risk, he may not feel as confident in the plan as the rest of his allies on this move. Still another day to figure it out and there are bound to be a lot of discussions and ideas thrown around in the HOH room.
What do you think of this weekend's Big Brother spoilers? Are you happy with the results or did you want someone else to pull off the win? If you have our Big Brother App then you received alert notifications as these results arrived. If you don't have it, then be sure to download our app now!