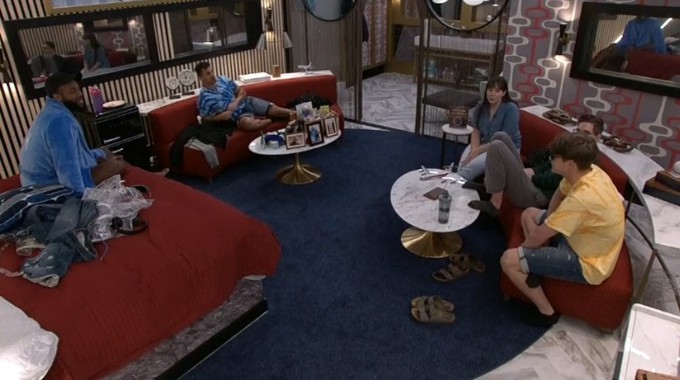 We've got all your latest Big Brother spoilers for everything that's gone down in the Big Brother 24 house since last Thursday's episode with the eviction and first part of the two-round HOH comp. It's been a busy past few days for the Houseguests so let's catch up on what they've done and who could be the next target of the Leftovers' takeover.
Let's get you caught up on all the spoilers and results from the BB24 Live Feeds the past few days.
Head of Household:
Thursday's eviction show gave us the cliffhanger with the first of two rounds kicking off as the HGs had to search falling envelopes for a red ticket to the next round. We only got to see Jasmine, Terrance, and Brittany find their Wonka tickets before the show ended, but by the time the Feeds returned we had a new HOH to set the tone for the week.
Read who won Head of Household in Week 4 >>
Nominations:
Lots of choices for Noms but it's complicated by this Besties twist that pairs up HGs into a package deal. Want your target on the Block? Then you've got to take their companion along too. The new HOH was quick to set a target but still plenty of obstacles in the way.
Read who was nominated in Week 4 >>
Power of Veto Competition:
With Noms set it's on to the Veto comp to see if those HGs could escape the danger zone and change up who faces the vote on Thursday. Remember everything works in pairs, so one HG winning the Veto gives two HGs the power to Veto a Nom and it only takes one to make that happen.
Read who won the Power of Veto in Week 4 >>
Power of Veto Meeting:
So with the Noms set and a Backdoor plan in motion it won't take much for the Leftovers to control the next move and vote, but what if the Veto holder from their alliance has other plans and a preferred target of his own? Add to that when the week's target is starting to figure out things might deja vu all over again with another switcharoo when it comes time to vote. This should be an intersting meeting!
What do you think of this weekend's Big Brother spoilers? Are you happy with the results or did you want someone else to pull off the win? If you have our Big Brother App then you received alert notifications as these results arrived. If you don't have it, then be sure to download our app now!