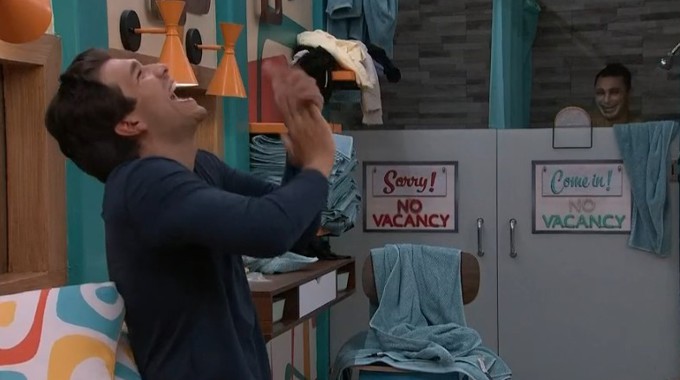 After more than 24 hours of downtime, the Big Brother 24 Live Feeds returned late Thursday night, and we learned who won Head of Household after a surprising live show that explained what went down behind the Feeds.
The game has officially reset after Paloma's departure and the first eviction of the season was canceled. Read on to find out who the new HOH is, and who might end up being their target this week.
If you've got the Live Feeds (Free Trial) then you can watch all of these moments with the Flashback feature to go back and watch those important conversations or funny scenes you may have missed.
Big Brother 24 Live Feed Highlights – Thursday, July 14, 2022:
12:04 AM BBT – Feeds are back. HGs gathered around Jasmine in the living room with her crutches from twisting her ankle during the live show. Jasmine is the new HOH.

12:12 AM BBT – Jasmine quickly comments that Taylor survived the last round but she's about to go right back on the Block. Jasmine says she wants Taylor out.

12:13 AM BBT – Pooch and Alyssa discussing Taylor going up as the target with Brittany as the pawn.

12:17 AM BBT – Pooch talking with Joseph that Taylor shouldn't even be an original nom so they can hopefully avoid her in the Veto comp (BD scenario).

12:20 AM BBT – Taylor comments the HOH comp was not skill-based and seemed random.

12:30 AM BBT – Michael and Brittany discussing they are feeling safe this week.

12:35 AM BBT – Taylor camtalks that she's still there but knows she's in danger of it happening again. She's thinking of how to show her loyalty.

1:00 AM BBT – Time to pick the HNs. Outgoing HNs pick the new ones. Monte -> Pooch. Joe -> Nicole. Michael -> Terrance. Kyle -> Daniel. They head upstairs to check out their new bedroom.

1:35 AM BBT – Pooch discusses being a pawn with Monte. He's suggesting being up against Brittany and they'd have the votes.

2:10 AM BBT – Jasmine says she asked for a stool for the shower. BB21 says Hi.

2:15 AM BBT – Michael, Ameerah, and Alyssa going over Pooch's idea of being a pawn. They don't want to see Brittany going up but hope they can get Pooch on then flip it against him and evict him.

2:30 AM BBT – Jasmine says she was to BD Taylor. She thinks it'll be easier if she's not up for the Veto comp.

3:30 AM BBT – HGs still hanging around and chatting.

4:00 AM BBT – Jasmine gets her HOH room. Monte carries her upstairs.

4:45 AM BBT – Taylor sticking around in the HOH room and uses the shower.

5:20 AM BBT – Jasmine asked Taylor to get her some ice packs from downstairs. Ameerah comes up and Jasmine comments that she can't get rid of Taylor. Taylor soon returns and helps wrap Jasmine's ankle with the ice pack.

5:35 AM BBT – Ameerah and Jasmine discuss getting Pooch out. Ameerah says everyone wants him out.

6:00 AM BBT – Pooch is upstairs talking with Jasmine and Ameerah. He is okay being the pawn alongside Brittany to help get out Taylor. He's frustrated that Taylor got to stay because of Paloma leaving. They note how Daniel had to nominate three HGs and all of them stayed.

6:15 AM BBT – Most of the HGs are asleep while Pooch, Jasmine, and Ameerah keep chatting game plans upstairs in the HOH room.

6:45 AM BBT – After Pooch leaves Ameerah tells Jasmine it'd be stupid not to get him out if he's on the Block and thinks they have the vote to do it.
Let's see where this plan of Pooch's goes today ahead of the nominations. Jasmine could take advantage of his volunteering as a pawn and then figure out later if she wants to use that opportunity to get him out or shift back to her earlier goal of going after Taylor, if things work out. What do you think she should do?
You can watch all of these Big Brother events using the archives Flashback, the DVR-like feature of this year's Live Feeds which means it's always live, even when you missed it! Sign-up now to get the free trial to watch it all live & uncensored.

Gallery: Live Feeds Highlights
Download our Big Brother App, join us on Facebook & Twitter, and get our Email Updates for more!