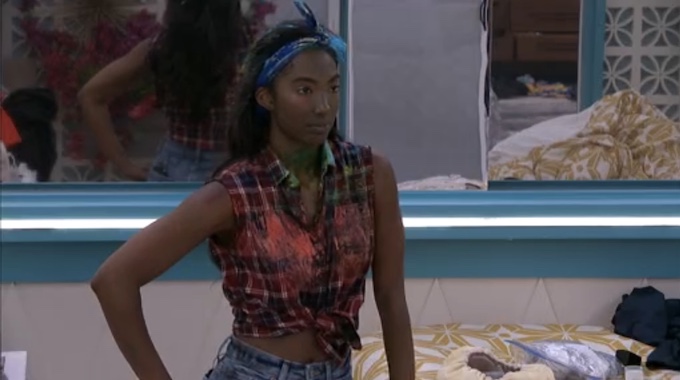 We have officially kicked off week 2 of Big Brother 24 with a brand new Head of Household in charge. There was a lot of talking going on inside the Big Brother house about which route this week's HOH will go with their noms. Read on to find out which BB24 houseguests could be in jeopardy of going on the block at this week's Nomination Ceremony!
Jasmine is the new HOH for week 2 of Big Brother and the first bit of talking we heard between her, Brittany, and Kyle early this morning indicated that she was planning to backdoor Taylor this week. She talked about Taylor's performance in the HOH competition and implied that her targeting Taylor is because she is a threat in the house.
Pooch and Ameerah talked a little later and Pooch suggested a plan to get Jasmine to put him and Brittany on the block and then backdoor Taylor. What Pooch doesn't realize is that Ameerah, Alyssa, Brittany, and Indy were all talking in the HOH room while Jasmine was showering. They plan to talk Jasmine into targeting Pooch this week since Taylor isn't a threat to their game at all.
After her talk with Pooch, Ameerah heads upstairs to talk to Jasmine who is lying in bed. Ameerah tells Jasmine about how Pooch said that he would go on the block next to Brittany so they could backdoor Taylor. Jasmine tells Ameerah that she can't put Brittany up and adds if she could take a shot at Pooch this week she would. Jasmine is worried that the rest of the house would be upset with her if she tried to send him out. Ameerah tells Jasmine that several people have told her directly that they want Pooch out.
Jasmine tells Ameerah to go get Pooch so they can all talk. Jasmine starts the conversation by telling Pooch that she doesn't think that Brittany can handle being on the block. Pooch suggests putting him up against a strong competitor to ensure that they win the Veto. Pooch mentions that another option would be to put Daniel up and go from the "you were both safe last week" angle. He said the only thing is if Taylor or Michael get picked for Veto and win, they are screwed.
Jasmine seems worried about the chance of Taylor being picked to play in the Veto and the chances of the Veto not being used if she does win. However, she also seems to be leaning towards targeting Pooch this week. Jasmine plans to talk to everyone and see where everyone's head is at. Who do you think Jasmine should put on the block next to Pooch?
Download our Big Brother App, join us on Facebook & Twitter, and get our Email Updates for more!