Following a Power of Veto competition on Saturday that upset Vanessa Rousso's plans she's turned to looking for a new plan, but so far it looks like she'll go for a much smaller target than she could.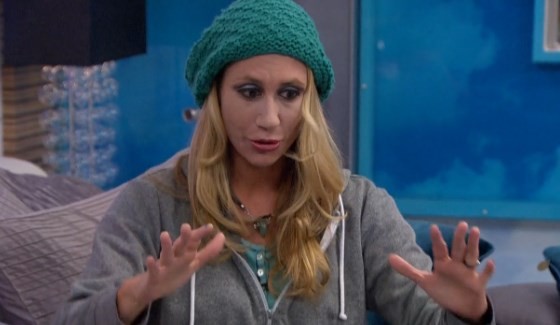 After scrambling overnight to find a substitute plan and appropriate target Vanessa appears to have settled on taking out the closest ally to her original target, but when she does that she'll miss the move that she should be taking this week.
James is effectively off the Block with his Veto win and Vanessa needs a renom. She's decided her new target will be Meg. Yep, sleepytime "grandma" Meg who has apparently lost 18 HoH & Veto comps this season. Her renom options include John, Steve, and the Austwins. Vanessa continues to present herself as working closely with John and Steve individually in private so she doesn't want to risk seeing one of those allies go home. That leaves her with the Austwins.
Looking at the situation I announced that Vanessa actually had a perfect opportunity here that had me thinking of Big Brother 14. Dan made a "shocking" move of betrayal when knew he had to split up the showmance of Danielle and Shane, something Vanessa seems to have only begun to focus on when it comes to the Austwins. Even worse for Vanessa, there's a twin sister factor in here that Dan didn't have to deal with. While that move may have been disastrous for Dan it could work for Vanessa as he did the voting she wouldn't have to. It's a perfect storm of opportunities. But one step at a time.
Just imagine: Vanessa tells Austin that she needs one of the twins to go up to make sure they vote the way she wants: Meg out. She renoms Liz against Meg then secretly campaigns to her allies John and Steve to join with James in voting to keep Meg by evicting Liz. 3-2, Liz is gone. Bam! Austin and Liz would be split along with Liz and Julia broken up.
Even better, and more importantly, is which of the three Vanessa would get to keep. Austin is more loyal to Vanessa than to Julia and Julia is more loyal to Vanessa than she is to Austin. Vanessa could pull the patented Danielle-SHOCKED face while getting no "blood on her hands" but walking away with everything she wants while not even casting a vote. Vanessa could be set up to work one on one with every single remaining HG except James. Practically perfect!