Over the past few days we've watched Vanessa shift to a new tactic from harsh confrontations and tears to offering cash to her allies to help move her along in the game. No more, said Big Brother.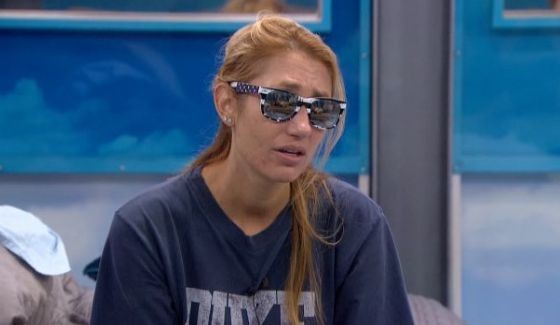 It's not uncommon to hear Houseguests trying to make deals and there have been situations in the past where HGs have arranged gifts for one another, but this season Vanessa seems to be taking that approach to a new level. Perhaps coming in to the game as a noted millionaire has put Vanessa in a different mindset when it comes to cash and it's become more about chasing the title for her.
On Thursday night, Flashback to 10:11 PM BBT 8/27, Vanessa told Austin that $25,000 isn't that much money and she was thinking they could work out a deal to comp the twins that much to each of them if one agreed to drop out at F4 for her. Yikes. That seems kinda sketchy, right?
This weekend, while looking for a pawn, Vanessa settled on Julia to make sure her target, Meg, would be sent home this week. Nevermind the fantastic opportunity she has to split up two duos by secretly getting Liz evicted. But to show Julia just how safe her plan is there's a back up plan to cash in on.
Flashback to 2:46 AM BBT 8/30 as Vanessa tells Austin and Liz that she's confident in using Julia as a pawn but should something go wrong she'll pay her $10,000 out of her own pocket. Jump ahead to today at 1:18 PM BBT when Vanessa makes that same pitch to Julia directly.
Well Big Brother had enough of her making what sounded a lot like bribes to the other HGs and she was called in to the Diary Room this afternoon soon after she made the "I'll give you $10,000 if things go wrong" pitch to Julia. Vanessa arrived back in the HoH room with the twins at 1:40 PM BBT.
Initially the Feeds cut but immediately returned as I imagine Big Brother might have wanted Feedsters to hear this even though HGs are usually not allowed to discuss their DR sessions. Vanessa tells Julia that she "got spanked" and what she really meant by offering $10K to her was just that she was 100% sure the plan would work. "I'll give her $10,000 out of my pocket" very loosely translates to "this is a great plan and you can fully trust me on the votes."
So what's the issue here? According to past Houseguests, that's a big no-no. You can't offer to split winnings along with other various restrictions in that topic of discussion. I suspect it goes past Big Brother rules to involve state or federal regulations, but I'm no lawyer. Vanessa must have been aware of this before though because she's discussed asking Big Brother for permission to offer HGs to work with them to take the winnings and gamble it in Vegas so several of them can profit from the prize money.
I imagine that's going to be the last of Vanessa offering Houseguests cash to push her farther in the game. So hopefully that's all settled now and we can get back to making game moves, not wire transfers.