There is no stopping the Johnny Mac Campaign Train as he pressed on this morning as soon as the Houseguests were out of bed, but just when I thought it was impossible, well, we might have something happening here. Might.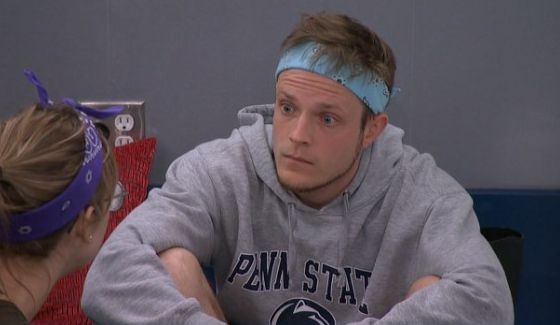 Kicking off the morning John did just as he promised Vanessa he'd do. John went to Meg and James with a new pitch and he lit a fire under their feet and soon sent them to Vanessa for a possible Vote Flip.
Flashback to 9:51 AM BBT 8/27 as John sits down with Meg in the Have-Not room. "Since I have nothing to lose, I'm pretty much going to tell you everything," John says to Meg. He's tells Meg that Steve is the Austwins' lapdog and keeping Steve enables a powerful alliance. He explains to her the F5 deal he, Steve, and the Austwins made. This would conflict with the F5/6 deal Meg and James made with them as well (Brass Tacks).
John says the Austwins made a huge mistake in putting their lapdog in a vulnerable position on the Block and this is her opportunity. If they let Steve stay then it could be James going next week. Meg wants to talk with Vanessa and John holds back that he's already been talking with Vanessa himself.
Jump forward to 9:59 AM BBT as James is now huddled with JMac. John is repeating the same pitch including how he and Steve had a F2 deal and subset of a F5 deal with the Austwins. John explains how the Austwins pitched John a deal to target the Goblins if they decided to keep him this week. James seems persuaded but caveats this admitting that without Vanessa nothing can happen.
James returns to Meg and they continue to discuss. Flashback 10:05 AM BBT. Neither are outright rejecting this and actually seem motivated to explore it further. James believes John and says he suspected they (James and Meg) were being targeted. He says he believes John's information to be accurate.
Austin then shows up and Meg doesn't hold back that she's nervous about keeping Steve. Meg doesn't know when to sit quietly on something. Austin starts to get nervous and the Goblins notice. When Austin leaves they agree that he was too heavily defending Steve.
Vanessa walks by and James says they want to talk to her ASAP. Meg says things are up in the air and want to make sure they're making the right eviction choice. Vanessa says she's open to talk and will be right back. Flashback to 10:23 AM BBT as she returns.
Vanessa asks James and Meg to tell her if there was a movement to exclude her from the Brass Tacks. There was, but Meg and James hesitate to confirm. Vanessa says if they tell her that then she'll do whatever they want. It's an opening big enough to drive a JMac truck through, but the Goblins stall.