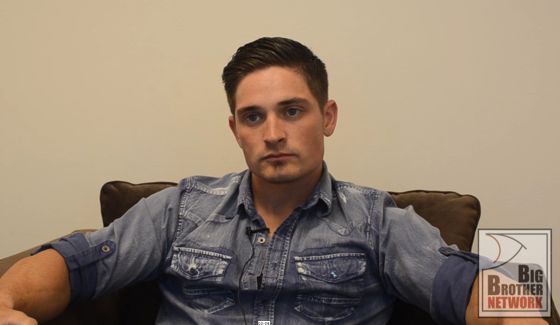 Caleb Reynolds
Age: 26
Hometown: Dallas, Texas
Living: Hopkinsville, Kentucky
Occupation: Adventure Hunting Guide
Marital Status: Single
click to see full-size images
Caleb Reynolds – Big Brother 16 Interview:
I'm hoping once we see Caleb get inside the house he's going to start to wake up because it was a bit of a calm interview with him. I wasn't sure what to make of his current daily job, leading hunting excursions. Oh I have no issue with hunting, it just sounded interesting and not a career we get a lot of on Big Brother.
Caleb was one of many HGs this season who actually applied for another show. He had tried out for Amazing Race, but Big Brother casting wanted him instead. Maybe he'll get his chance at TAR if things go well here.
Caleb's strategy was a fishing metaphor and pretty clever. He calls it the "bobber, hook, & sinker" and hopes to be the bobber while his opponents get mad at the "hook" instead of him. Not bad.
He's open to a showmance, ladies, so there could be some action there with the other Southern gals.
Watch Caleb Reynolds's interview with Big Brother Network to hear the rest of what he had to say including why you should root for him on Big Brother 16.
Check out the rest of the Big Brother 16 cast interviews & bios here.
Latest Caleb Reynolds News & Updates:
Continue reading more Caleb Reynolds updates…