Frankie Grande sees the writing on the Big Brother wall and is trying anything he can to avoid eviction this week just days away from the season finale. Unfortunately for Frankie all his support has abandoned him and his advice is falling on deaf ears.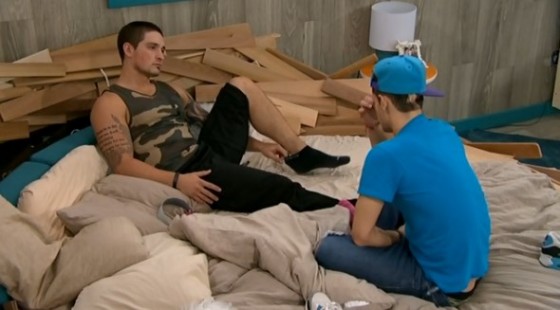 While we've seen what an incredible game Derrick Levasseur has played from our vantage point at home his control and domination of the season's moves has often been shrouded from the HGs who remain in the game. Now on his way out the door Frankie is trying to expose that position to the one person he thinks would do something about it.
Flashback to 2:20AM BBT (get the Free Trial now) as Frankie works on Caleb as to why he needs to campaign to keep him in the house. Of course without a vote this week, campaigning to Caleb is rather pointless but maybe Frankie knows that talking to anyone else is just as much of a waste of his time.
Frankie tells Caleb that Derrick has "played an impeccable social game" and has never even been nominated after twelve weeks of BB16. "I don't think we can beat Derrick. I don't know why everyone thinks that," says Frankie. Caleb responds saying Derrick as never stabbed anyone in the back or thrown anybody under the bus. Heh. Frankie points out that's what makes Derrick's game so good. Caleb does not see it. Not in the least.
Caleb begins running through all the imaginary votes he thinks he and Frankie would have against Derrick. I'm not sure what reality Caleb is living it, but I don't think any of us share it with him.
"I know he doesn't have the votes that he thinks he's got in the Jury," says Caleb. According to Caleb, Jurors who won't vote for Derrick includes: Victoria, Nicole, Jocasta, Donny, and Hayden. Oh, Caleb. Derrick has all of those votes and those alone would be enough to give him the win with a 9-HG Jury.
"Any of us against Derrick is a good chance. That's all there is to it," says Caleb. Frankie tries to push back and warn him that Derrick has so much to fall back on that will impact the Jury's decision.
Caleb goes on to reference the Survivor story that Derrick told him about. Caleb says Wood went for the honorable win instead of the sure thing and lost. He's saying he wouldn't make that same mistake. Of course that prompts Frankie to point out that means Caleb would take Derrick over him (Frankie). Caleb responds with "uh uh." Yeah.
Frankie suggests they should have targeted Derrick this week and says they need to get Cody up there to get him to flip and use the Veto. They laugh at the absurdity of the idea, so no, they don't think that could happen.
They return to the Survivor story regarding Woo losing. Frankie asks who told Caleb about Woo and Tony then doesn't even wait for an answer. "Derrick!" offers Frankie. Caleb says that was awhile back, but it wasn't. That conversation was just hours earlier that same night.
Frankie says Derrick is so smart and calculating in even the little things like telling Caleb that story. Caleb continues to insist that Derrick with just three comp wins won't beat anyone at the end. At this point Frankie does concede that Derrick "would probably lose, but he's definitely getting the $50,000."
The conversation wanders from the topic of Derrick to whether or not the votes will go against Frankie. Caleb promises Frankie he won't let him be blindsided if it comes to that. They go on to discuss various F2 scenarios and Frankie keeps trying to warn him about Derrick, but it's just not getting through. "Against me, you, or Cody he'll get one or two votes," says Caleb about Derrick's chances at the end. Heh.
When Frankie gets evicted on Tuesday night's show Derrick will be positioned to win this game. That Veto was a $500,000 comp well ahead of finale night's confirmation. Caleb, Cody, and Victoria will all take Derrick to the end with them and the Jury will give Derrick the $500K. Kudos, Derrick. Well done.