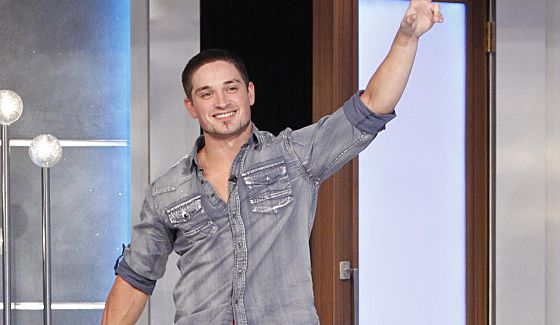 Loyalty may have been Caleb Reynold's greatest strength and worst enemy as a Houseguest on Big Brother this season. He joined the Bomb Squad alliance in the first few days of the game and rode it out to the end even as its only passenger with a solid trust in Derrick. Unfortunately for his game, when Frankie was gone so was his role in the alliance.
Luckily for Caleb he keeps in mind that it was all just a game after being voted out in fourth place this week on BB16 and following his former ally Frankie out the door.
In our interview Caleb discusses that whole Amber situation, what changed for him when she left, who he hopes to see in the Final Two, and much more.
Matthew Boyer – Big Brother Network (BBN): If you had won the Power of Veto & had the only vote, would you have done the same thing and voted Cody out?
Caleb Reynolds: Yes.
BBN: What was going on for you with Amber at the start of the season?
Caleb: You know, just getting to talk to a girl that shared similarities with a similar lifestyle growing up. And her being amazingly gorgeous. All around, just made me want to get to know her more.
BBN: Once Amber was evicted you seemed to be an entirely different HG. Compare your game style/approach between when Amber was in the house and when she was gone. What changed for you?
Caleb: I would say when Amber was in the house I was probably more worried about pleasing her and being a gentleman to kind of win her over. When she left, I was not interested in anyone else like that so I got to open up and be myself more.
BBN: Given the chance to start the season over and form a new alliance with two other Houseguests, who would you pick?
Caleb: Nicole and Donny.
BBN: What was your game decision and strategy behind finally deciding it was the right time to target and evict Frankie?
Caleb: When you've got two beasts in the house, only one of you can win the game. While I was in power, I felt it was time to get him out before he got me out.
BBN: When you first decided not to backdoor Frankie you cited concerns that it would earn you millions of haters from his family's fans. How did Frankie's reveal of his sister's fame impact your game moves?
Caleb: It didn't impact it at all. For one, I didn't know who she was. I hadn't heard a song she sang. And, she wasn't playing the game, Frankie was.
When I said that, I was making a joke about his sister's fans hating me. But I didn't evict him then because I didn't think it was good for my game at the time, and he was a friend of mine.
BBN: When Nicole returned to the game and offered a deal. Did you give that any serious consideration and why did you decide to decline her offer?
Caleb: I did not give it a serious thought at all because she very known for throwing deals peoples way and not following through. She was very good at manipulation. She already had a chance in the game. She played the comps and lost.
BBN: If you could go back and hit the Rewind button on any one of your game moves this season, what would it be and why?
Caleb: I would hit the rewind button on this last week. I would have tried to study a lot more for that final Veto comp.
BBN: Who do you hope to see make it to the F2?
Caleb: Derrick and Cody
BBN: What's next out there for Beast Mode Cowboy?
Caleb: Going home to the country lifestyle. Breathing that fresh Kentucky air. Just taking a stab at every opportunity that comes my way and hopefully find a girl that loves me for who I am. Who loves Caleb, not Beast Mode.
BBN: Thanks, Caleb. Congratulations on making it to Final Four.
Watch Caleb Reynold's preseason cast interview to see how his perspective on the game changed: