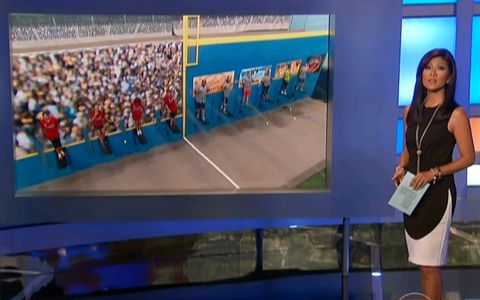 Here we go! It's time for a new Big Brother 15 Endurance HoH Competition! We just saw tonight's eviction so it's time to crown a new Head of Household AND find out which previously evicted HG will be returning to compete again in the game!
So here's the deal: if you want to watch this competition live as it happens then you have to have your Big Brother Live Feeds
up and running. If you don't have the feeds then this is exactly when you need to sign-up with the free trial and see how they work. You'll be able to watch everything live and uncut as it happens right along with us!
Click Here to Get the Big Brother Live Feed Free Trial
Update: Here are pics from tonight's competition! Click the thumbnails to see full sized.
Big Brother 15 Week 9 HoH Endurance Comp Results:
6:55PM BBT – As the show ended, Jessie led with 2 balls.
7:00PM BBT – Waiting for the Feeds to return.
7:20PM BBT – Still waiting. Feeds back soon.
7:25PM BBT – Feeds are back!
7:26PM BBT – Jessie has 3. Elissa has 4.
7:27PM BBT – McCrae & Spencer fell during the break.
7:28PM BBT – Jessie & Judd catch another. He has 3 now.
7:29PM BBT – Elissa caught a 5th. Amanda has 4.
7:30PM BBT – Andy is down. GM, Elissa, & Amanda remain from reg HGs.
7:35PM BBT – Feeds went to Trivia. It'll be back soon.
7:37PM BBT – Feeds back. Jessie falls. She cusses at Amanda & leaves.
7:40PM BBT – Judd leads Jurors w/ 3. Candice & Helen have 2 each.
7:42PM BBT – Crazy, mysterious visitor runs out to backyard yelling. Security chases him off. It was staged.
7:47PM BBT – Jury status: Judd – 4, Helen – 3, Candice – 2.
7:49PM BBT – Reg HG status: Elissa – 5, GM & Amanda – 4.
7:55PM BBT – Helen sharing notes w/ Judd. Says GM tried to save her.
7:56PM BBT – Aaryn announces GM lost a ball because it bounced first.
7:58PM BBT – McCrae goofing around. He's wearing prop baseball gear.
8:01PM BBT – HGs get hit hard by balls. They shout & complain.
8:05PM BBT – Elissa has 6. Judd leads Jury HGs w/ 4.
8:06PM BBT – Helen falls!
8:07PM BBT – Candice falls! Judd is back! Judd is back!
8:09PM BBT – Judd catches another. He's 1 behind Elissa & 1 ahead of Amanda
8:12PM BBT – Judd says Jury was separated & couldn't talk game off-camera
8:13PM BBT – Elissa catches a 7th ball.
8:14PM BBT – Visitor runs in again and gets chased out again.
8:15PM BBT – Judd falls!
8:16PM BBT – Amanda nearly falls but saves herself.
8:17PM BBT – Whoa! Elissa falls off but catches an edge & swings back on!
8:18PM BBT – Elissa has 8 balls.
8:25PM BBT – Current stats: Elissa – 8, Amanda – 5, GM -3.
8:30PM BBT – Elissa has 9.
8:31PM BBT – Elissa catches number 10. Congrats, Elissa. You are the new HoH!
Watch what's happening with the Live Feeds free trial!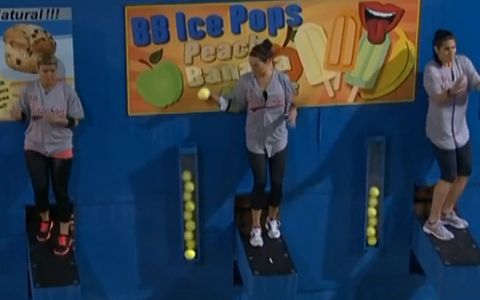 Congratulations to Elissa. She is the new Head of Household! Her noms will be revealed late on Friday night and we should be in for an exciting week with her at the helm & Judd back in the game!
What do you think of tonight's Big Brother 15 HoH results & Judd's return?