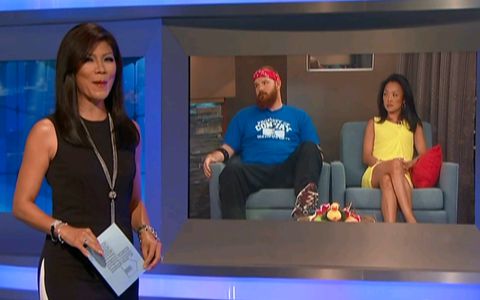 Julie Chen told us to expect "all hell to break loose" in the Big Brother 15 house, but we didn't get to see that in this episode. Actually, it was nothing like any of us expected. Not only did we not get to find out who the new Head of Household is, but we also never got to find out who the returning juror is during the episode.
What we did get to see, however, is Helen get evicted. Amanda's latest plan came to fruition and Helen walked out the door.
The beginning of the episode picked up right after Aaryn named Spencer as the replacement nominee. Aaryn stuck to her deal with her alliance and Helen is starting to sweat. A lot. Helen gets to work trying to get Aaryn and GinaMarie to come together and get rid of Spencer, then Amanda and McCrae. Enter Andy, and he spoils it all. He pretends like he's on Helen's side, but she knows better. She tells him if she goes home, it's on him.
Aaryn implies that someone will rat that conversation to Amanda and Andy immediate runs to Amanda to tell her everything.
Helen decides to work on McCrae. She tries her best, but McCrae is sitting there clearly about to scream. He just nods and throws out a lot of "yeahs" "uhhhs" and some nods. It's obvious that she's getting no where. And as expected, McCrae tells Amanda everything Helen said. And Helen's fate gets a double seal. And some tape. And some glue. And then another seal.
Helen realizes she's fighting a losing battle, so she and Elissa team up on Andy and Helen, who calls Amanda a bully all the time, tries to bully Andy. Did it work? Of course not. Let's get to the vote.
The Vote
McCrae votes to evict Helen.
Amanda votes to evict Helen.
Elissa votes to evict Spencer.
Andy votes to evict Helen.
GinaMarie votes to evict Helen.
By a vote of 4-1, Helen is evicted from the Big Brother house.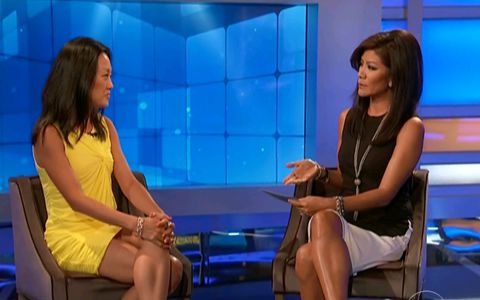 Helen leaves the house to talk to Julie and my favorite part was when Julie asked what was up with all the Judd paranoia. Helen seems to realize they were probably way off about Judd, but that's all too late now.
We then get to take a peek at the Jury House. And surprisingly enough, Candice, Judd and Jessie all did get to hang out in the jury house. And then the jurors find a note. And it tells them that they have a chance to get back in the game. Jessie and Judd both think they're going to go in and go after Amanda. Candice, of course, would go after GinaMarie.
The four jurors then show up on stage with Julie and she gives them the details about re-entering the house. And then Julie breaks the news to the Houesguests and sends the jury members into the house. And everyone freaks out. It's quite a sight.
It's time for the competition. And it's endurance. It's the wall endurance competition. Only this time they have to also catch balls. The first person to catch 10 balls wins HOH. If a juror catches 10 balls, they re-enter the game and become the new HOH. If a juror member isn't first, they continue on until one of them catches 10 and then they re-enter the game.
We don't get to see any results play out on the live episode, but we have all of your results from the competition in our Big Brothers Spoilers.