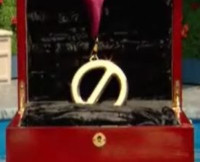 The Big Brother 14 house has been shaken from top to bottom since last night when Dan called a house meeting (read the recap) to present his "Big Brother Funeral." Instead that funeral may have turned in to his rebirth in the game if things go to plan for him today at the Power of Veto ceremony.
Forming an unlikely alliance the power in the house has now come together with a new target and a new line of attack. The first step in that plan was to change things up and with two Power of Veto medallions in play this week there were lots of possibilities.
Read on to find out what happened at today's Veto ceremony because once again the house exploded in fights. You don't want to miss what's going on right now.
Both Ian and Jenn were given an opportunity to use their Veto. As expected, Ian declined to use his Pandora Veto. No surprise since he warned Dan he'd only use it if the Quack Pack was entirely safe. That brought things around to Jenn, the holder of the regular Veto. Jenn was ready to shake things up and "make a big move" in the game.
Jenn used her Veto to save Dan, giving Frank the chance to name a renom in his place. Just as they planned last night, Britney went up on the block and is now seated next to Danielle. One of these two HGs will go home on Thursday night. Right now the plan is to evict Britney, but like we keep seeing, anything can happen.
We're still piecing together all the details on what happened, so jump on your Live Feeds and watch along as the drama unfolds.
Big Brother Live Feed Flashback time:
August 27, 2012 @ 12:35 PM BBT on all Cams
Uncensored Live Feeds Free 3-Day Trial – Sign-up Now
Update: Incredible action right now on the Feeds! Ian is in a yelling match with Frank and calling each other out on everything. This is awesome. Get your Free Trial of the Feeds and watch it play out! Flashback to 12:57PM BBT to watch.
Get ready for plenty of action in the game. You can watch along on the in-house camera video streams by checking out the Big Brother Live Feed free trial. Try it out for free and then keep it for only fifty cents a day. That's some cheap entertainment.