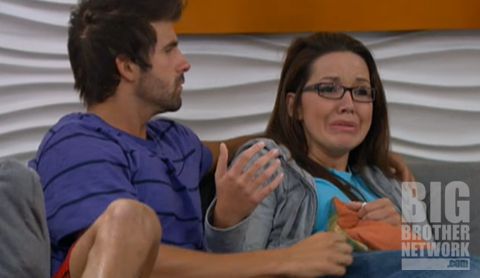 Today is going to be epic for Big Brother 14. Remember when Shane nominated Frank & Boogie and we had seven straight hours of chaos? Well get ready, because here comes chaos all over again.
I started working on this "pre Veto" post last night when things looked like a lock for a very dull and boring Monday. I never write these things in advance and I was soon reminded why. Not thirty minutes after I finished writing Dan called a house meeting, a big, big house meeting. Well I can toss that original article out because what we've got coming is so much better. Read our full recap of last night's house meeting insanity. It's a must read as a backdrop to everything that's about to go down.
There are two Vetos at play right now. Ian won a special Pandora Veto and then there's the regular Veto. Both carry the power to remove a nominee from the chopping block and force Frank as HoH to make a new nominee. What we don't know is how they work together. That could impact what happens later, but it won't completely disrupt anything.
Originally no one was going to use their Veto. Ian promised he wouldn't use it unless the Quack Pack had the perfect scenario to stay intact. That fell apart when Britney and Shane both failed to get the Veto. Jenn, who won the regular Veto, promised Frank she wouldn't use the Veto either. Half of that has changed.
Thanks to the huge diversion Dan created with his house meeting that ended in Danielle sobbing he was able to get more than an hour with Frank in private under the guise of making an apology. Instead Dan convinced Frank to have Jenn save him and renom Britney in his place. Dan double crossed his old alliance and revealed the Quack Pack to Frank, exposing why Britney and Ian seemed so close to one another. That was enough for Frank and he was on board.
Sign-Up – Big Brother Uncensored Live Feeds Free 3-Day Trial
After Frank talked with Dan he met privately with Jenn. He revealed Ian's double agent status in the house and shocked Jenn with the news. Frank went on to share the plan that she'd save Dan to free up a space for Britney. Jenn is very nervous but on board and ready to do it though she worries about the target it'll put on her.
A few extra meetings went on through the night and solidified this new 4-HG alliance. Dan, Danielle, Frank, and Jenn are now going to work together, well at least for this week. Where it goes from there we shall see.
The one possible hangup could be how the Vetoes work together. We don't know what order they play out and that could make a difference. If Ian has to make his choice first there won't be any impact to their plan. Now if things flip in the other direction and Ian gets to play his Veto after Jenn's then he could save Britney if Frank renoms her. In that situation Frank could renom Shane and still manage to break up a powerful duo while breaking Britney's shield.
Let's recap. Dan was a dead man walking this morning at the hands of a vengeful Frank. Now he's got Frank convincing Jenn to take him off the block while the rest of the house is completely in the dark about what's just happened. From dead man walking to safe another week in just a few short hours. This guy is impressive to say the least.
The Veto Ceremony is set for later today and it's going to be huge. We'll be watching closely and are anxious for the fallout because you know it's going to be huge and so worth watching. Make sure you sign-up for the Live Feeds free trial and you can check out everything going on and use Flashback to watch anything you missed last night!

Click Here to Get the Big Brother Live Feed Free Trial
What do you think Jenn and Ian should do with their Veto powers? Is Frank making the right move or just trusting the wrong person again in the game? Let's hear your thoughts on all this.