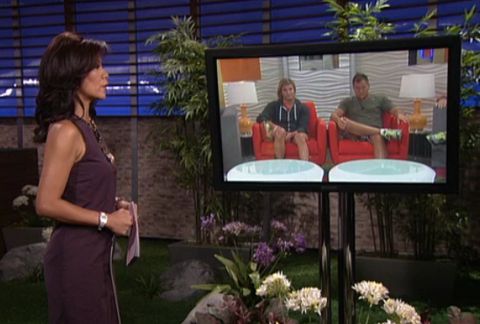 Thursday night's live eviction episode of Big Brother 14 went just as everyone expect as Wil was evicted by a vote of 6 to 2 meaning Chef Joe has at least another week to scream at us during his Diary Room sessions.
The episode picked up just after the veto ceremony where Frank decided to not use the veto and leave Joe and Wil on the block. Dan, Danielle, Britney and Shane are very relieved but also realize the fact that they were so scared of being blindsided means there are cracks in the Silent Six foundation. As if there weren't cracks from the start. Everyone knows you can't trust Boogie.
Dan thanks Frank for not blindsiding him, but Frank tells him it did cross his mind. This reminds Dan that he can't trust Frank, but Dan never says anything about not trusting Boogie. That's because my conspiracy theory remains that Dan and Boogie made an agreement before the game started and just haven't mentioned in the house.
Wil and Joe's campaigning starts. Neither actually know the people they need to work on is another alliance that has formed outside the Silent Six. It's ridiculously called the "Quack Pack" and it consists of Dan, Ian, Britney, Shane and Danielle. They basically control the votes this week and it they make no promises to either nominee, but are of course leaning toward evicting Wil.
If you're into this sort of thing, it might be worth me mentioning. Ashley and Frank went on a date this week and it ended in a steamy makeout session. Poor Ian was a little jealous since he's had a "flirtmance" with Ashley all season.
Julie Chen sends of off to visit with Joe's wife and kids and the two things we learned during that session is even his wife and kids hate Joe's yelling in the diary room and his soul patch. Oh, and they hate Boogie, too. But who doesn't?
After we get back to the live part of the show, Julie welcomes back season 11 and 13 alum Jeff Schroeder. She asks him some personal questions then he let's us know this season he's pulling for Ian. Next Julie gives the HGs a current events quiz, which is really just a way to let them in on some events that have happened in the world since they entered the house.
Wil gives a great final speech and Joe mumbles out a bunch of stuff that still has me scratching his head.
The speeches are done and the live voting begins. Here's the rundown of the votes:
Ashley: evict Joe
Boogie: evict Wil
Danielle: evict Wil
Jenn: evict Joe
Dan: evict Wil
Britney: evict Wil
Shane: evict Wil
Ian: evict Wil
Wil is evicted and Joe lives on.
The HoH competition starts and it's a physical competition with some endurance mixed in called "Swamped." It's the game where they have to walk back and forth on a slippery surface using a small cup to fill up a bowl to get a ball out. Only this season there are two other bowls besides the HoH one. One will award the winner $10,000 and the other gives the winner safety from eviction this week.
Before the show ends, we see that Boogie is the only player going for the money while everyone else is working toward HoH or safety. Tune in Monday for those results, or if you can't wait, we've got the HoH competition results up and ready for you.