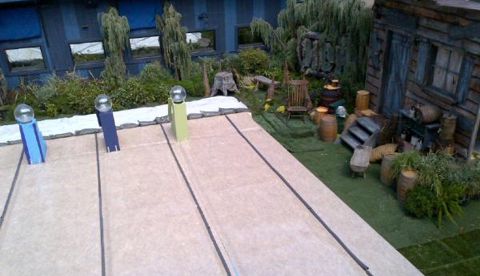 Here we go! It's time for a new Big Brother 14 Endurance HoH Competition! We just saw tonight's eviction so it's time to crown a new HoH.
The endurance competition is called "Swamped" and it's set up like many past endurance competitions. HGs will have to race from end to end of a track and be the first to fill up their water bowl. The winner becomes the next HoH.
There are also temptations along the way. HGs who fill a smaller bucket for $10K or Safety (from eviction) will win that instead of competing for the HoH title.
So here's the deal: if you want to watch this competition live as it happens then you have to have your Big Brother Feeds up and running. If you don't have the feeds then this is exactly when you need to sign-up with the free trial and see how they work. You'll be able to watch everything live and uncut as it happens!
Click Here to Get the Big Brother Live Feed Free Trial
Big Brother 14 Week 6 HoH Endurance Comp Results:
6:55 PM BBT – Boogie is going for $10K. Joe for Safety.
7:00 PM BBT – Waiting for the Live Feeds to return.
7:10 PM BBT – Live Feeds are back. Ashley is crawling.
7:15 PM BBT – Shane has a healthy lead, so it seems.
7:20 PM BBT – Danielle is in second, little ahead of Ian.
7:21 PM BBT – Britney has Safety filled. She's safe this week.
7:25 PM BBT – Jenn has to ask for confirmation that Safety is no longer available.
7:26 PM BBT – Boogie about half way filled up on $10K bucket.
7:30 PM BBT – Shane is about halfway done with his bowl.
7:35 PM BBT – Ian isn't slowing, but Ashley is back to crawling.
7:40 PM BBT – Hard to tell if Ashley is sleeping or still competing.
7:45 PM BBT – Shane is pulling away from the other HGs.
7:50 PM BBT – Boogie is just about to get the $10K.
7:51 PM BBT – Yep. Boogie just won the $10K.
7:55 PM BBT – No one has given up, but this is Shane's to lose.
8:00 PM BBT – Dan is working hard, but hopelessly still racing.
8:05 PM BBT – Sounds like there are no Have-Nots this week. Bonus!
8:10 PM BBT – LOTS of hard falls in this comp. Shane still leads.
8:15 PM BBT – Shane is about 3/4 of the way there. It's getting close!
8:20 PM BBT – Shane leads. Danielle falls. Ashley creeping. Good times!
8:25 PM BBT – Shane is reaching in to grab the win. Sooo close.
8:28 PM BBT – Shane pulls out the cork & is the new HoH!
Grab your Live Feeds Free Trial right now to watch what happens next.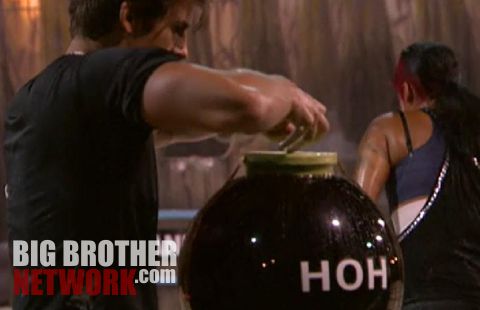 Congrats to Shane, the new HoH! Who do you think he'll nominate? Also during the comp we saw Britney win the "Safety" temptation so she can't be nominated or evicted this week. Boogie won the "$10K" bucket prize.
Crank up your Live Feeds to watch the HGs battle it out right now!
Click here to start your Free 3-Day Trial of Big Brother Live Feeds!