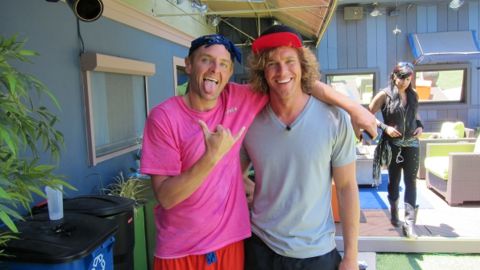 There's a new sheriff in the Big Brother 14 house and later today that HoH will have to start naming names and placing HGs on the block. After last night's endurance competition ended we got our first insight to what we could expect from tonight's Nomination Ceremony. Read on to find out who is headed for the hot seats.
Flashback to 2AM BBT on Cams 1/2 to find Britney talking with Dan and Danielle about how they need to get Frank out of the game. Britney says they can't risk Boogie using the Veto to save Frank, so they both need to go up together on the block. Now the challenge is to convince Shane to make that move.
Ian and Britney speak privately at 2:15AM BBT Cams 3/4. Ian really wants Boogie to go before Frank. Britney feels strongly that it should be Frank, not Boogie going first. She keeps calling him a "douche."
Jump forward to 2:23AM BBT Cams 1/2 to find Shane, Danielle, Britney, Dan, and Ian in the HoH room. They turn to Ian and ask what he thinks they should do. Ian agrees that Frank and Boogie need to go up, but he again pushes for Boogie's eviction over Frank's. The rest of the room disagrees and says Frank needs to go home before Boogie.
As they continue to discuss options Shane is hesitant about going against the "Silent Six," but eventually comes around. Flashback to 2:32AM BBT. The "Quack Pack's" plan as of now is for Shane to nominate Frank and Boogie. Frank is the main target. If one of them comes down they say either Ashley or Joe will go up, but more likely Joe.
Shane is nervous about what he'll say to Frank and Boogie on Friday but plans to act like the "Silent Six" remains intact. (Clarification: Shane is concerned about how to avoid Frank and Boogie catching on to them being targeted before the noms, not after.) This should make for some good times on the Big Brother Live Feed. Sign-up now to get your free trial and watch the in-house cams.
If you'll be out this weekend while the nomination and Veto spoilers are revealed, then grab our free iPhone app and free Android app to get Big Brother updates on the go!