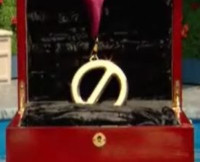 Big Brother 13 never rests or takes the weekend off (which means neither do we!). Rachel made her nominations last night and today the nominees had their chance at safety. But would they take it? The Noms might be feeling too comfortable in their willingness to consider throwing the fight.
Read on to find out who won and what that means for the game this week.
Big Brother 13 Week 3 Power of Veto results:
Brenchel has won the Veto Competition.
Jump on the live feeds right now to watch the house react. Don't forget, you can use on the Live Feed Mobile Access and watch the Feeds on the go!
Sounds like Brendon won. It was another spelling comp. Brendon says Jeff would have won if he had made a spelling mistake, so I guess no "technotronics" this time around. Brendon says he used the exact same word as last year. Guess that makes things pretty easy for the Vets vs. the Newbs, huh?
The players in this week's PoV competition were Rachel as HoH with Brendon as her Dynamic Duo partner, Adam and Dominic as the nominees, and Jeff and Jordan were randomly selected. Porsche played host.
Don't expect Brendon to use the Veto. Either Dominic or Adam will go, just depends on who they trust less at that moment.
The Veto ceremony will be held in the next few days, probably Monday, so we'll soon know whether or not the power will be used. Stay close by and we'll let you know as soon as that happens.
What do you think of the PoV Comp results? Should it be used for renoms?