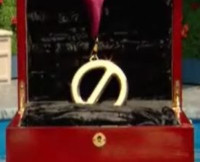 The Power of Veto Ceremony is over in the Big Brother 13 and after all the fights over the past two days I don't think anyone should be surprised by the results. The house has been very tense and this isn't going to help matters. The strongest alliance this season of Big Brother is crumbling and this is going to put another dent in its foundation.
To find out if the PoV was used click "continue reading" below for the spoilers.
At today's Power of Veto Ceremony, this week's winner of the Veto, Brendon, decided against using the Veto power which keeps Rachel's nominations in place which means Jeff & Jordan are safe. Either Dominic or Adam will be going home and so far it definitely sounds like Dominic is heading for Julie's couch on Thursday.
The house is absolutely on fire today. This has been the best day of the season so far on the Live Feeds. We've had Daniele throwing a fit and yelling at Brendon this morning (10:50AM BBT on Flashback) and then after the POV Ceremony Jeff and Dominic were fighting (1:10PM BBT on Flashback) over whose idea it was to backdoor him (Jeff). Now we've even got Adam talking to Brenchel (1:25PM BBT on Flashback) exposing that she had promised him safety if he gave her his loyalty.
Click here to start your Free 3-Day Trial of Big Brother Live Feeds!
If you haven't started watching the Live Feeds yet then this is the time to start. You'll see the real game, uncut and uncensored, as it happens. Grab the Free Trial and see what other fans are watching right now.
What do you think? Which of these two should be evicted on Thursday's live show? Share your thoughts below then watch the fallout on the Live Feeds (get Free Trial).
Be sure to sign-up for the free Big Brother email updates, join us on Facebook, follow us on Twitter, and grab the free Big Brother Toolbar.