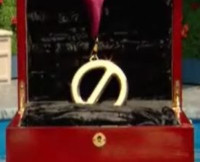 Big Brother 12 is heating up as we enter the fourth week of backstabbing and fighting as stress levels run high amongst the HGs. After finding out who Rachel nominated last night it was time for the Veto competition which gave the nominees there last chance at safety.
Read on to find out who won and what that means for the game this week.
The Week 4 Power of Veto results for Big Brother 12:
Britney won the Veto Competition.
Jump on the live feeds right now to watch the house react to the Veto results.
The players in this week's PoV competition were Rachel as HoH, Kristen and Hayden as the nominees, along with Ragan, Britney, and Enzo with Brendon as the host. Rachel pointed out that only Britney and Brendon have won the veto so far this season, both of them earning it twice. Wow, the same people keep winning everything this season! Come on the rest of you, HGs.
To add salt to Kristen's wounds, she is stuck wearing the fabled unitard from Big Brother 8. Yikes. I wonder if she'll have to wear it all the way out to Julie's couch. Rachel won $5,000. Enzo won a TV. Hayden is on 24-hour confinement.
The Veto ceremony will be held on Monday so we'll soon know whether or not the power will be used. Britney and Rachel discussed last night that Kathy would be Kristen's replacement if she came down. Will Rachel decide to ask Britney to use the Veto to make that switch or stick with her original target of Kristen? Stay close by and we'll let you know as soon as that happens.
What do you think of the PoV Comp results? Should Britney use the Veto?
Jump on the live feeds and enjoy the drama. Watch it all now live & uncensored.