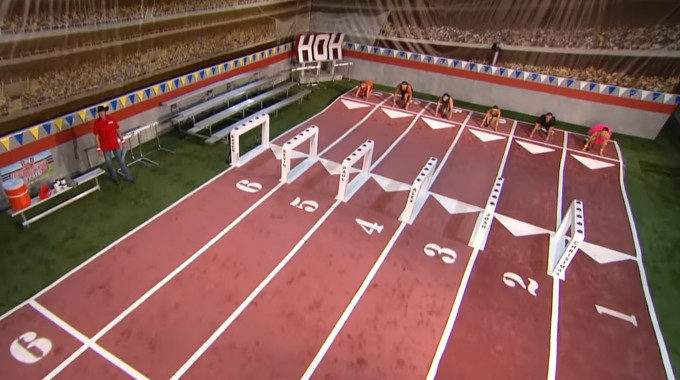 Settle in for what might be the most infuriating episode to date of Big Brother 19. We've got a Head of Household competition ahead featuring a physical, sprinting competition and yet all six eligible Houseguests will be competing. Not only that, but we're likely about to watch some of the worst dives taken in Big Brother history.
Paul spent the days leading up to this competition convincing the entire house to throw the next HoH comp to his preferred pets and even after watching the last couple get hoodwinked in to falling for his tricks they're all about to line up and do as he says again. It hurts my brain to watch these people try so hard to play so poorly.
Gallery: Week 10 HoH Competition
Once we get through this disastrous HoH competition it'll be on to the next flop for the night with the Tree of Temptation twist. Remember last week when Paul convinced everyone they were so safe that no one should touch the tree? Well don't let me ruin tonight's surprise then.
Thankfully the episode will eventually end with the next round of nominations and since everyone is playing for Paul this season the result will be what's best for his game. Sigh. It's embarrassing. Truly embarrassing to see so many people willingly dismiss their game for a stranger. Good for Paul, but shame on the rest of these fools.
Don't forget you can live stream CBS TV on All Access to catch tonight's Big Brother 19 episode even if you're on the go. Get your Free Trial now and watch all the episodes and Live Feeds too.

Can't wait to find out if anyone got the Temptation and who was nominated? Check our spoilers board for all the latest results and updates for the season so far.
Join us back here at 8/7c and chat live with other fans throughout the show. Want even more Big Brother? Download our Big Brother App, join us on Facebook & Twitter, and get our Email Updates.