John McGuire, the Rockstar Dentist, was evicted from the Big Brother 17 house for a second time during Wednesday's live eviction after he failed to secure Vanessa's sole vote just shy of the Final 3.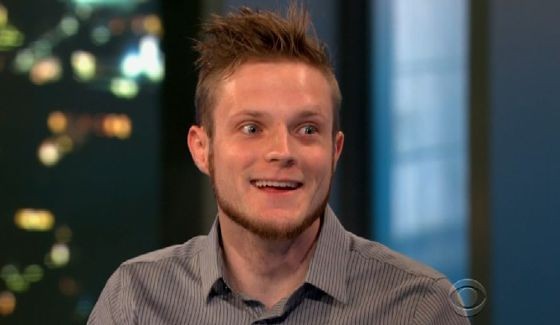 Now on his way to the Jury house we had the chance to put some questions to John about his experience and what happened in some of the game moves that surprised a lot of fans this season.
Update: PopTV has shared their John McGuire interview with us for some extra questions and interesting insight to JMac and his game. Click the graphic for more of their interview then scroll down for ours too.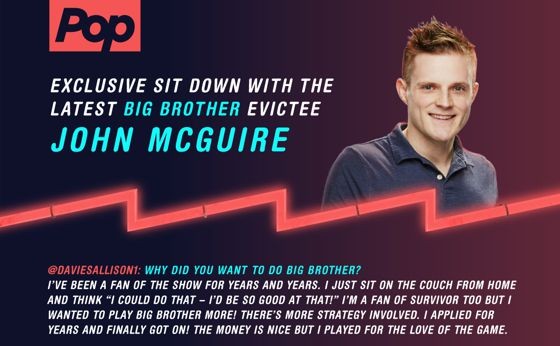 BBN: Had you made it to the F2, what would have been your main argument that you deserved the win?
John McGuire: I felt that I had the first 5 juror votes on lock already. I just had to get to the end. When I came back in the second time, I knew I was going against the Scamper Squad and the remaining Goblins. I had an uphill battle and that would have been another argument for the extra four votes that I probably wouldn't even need.
BBN: Who did you truly want to get to F2 with out of these final Houseguests?
John: Out of these final houseguests, I didn't really care. I felt like I would have beaten any of them in a vote situation, so whatever combination of them that would get me to final two, I would have been fine with.
BBN: If Vanessa hadn't come to you to save Steve last week, would you have really voted him out?
John: That was a really tough decision. In the end, I decided to keep Steve because I wanted him to win the next VETO competition. I thought he would have done shot than Austin. If Vanessa's on board with it too, why would I vote to keep Steve? Plus, I thought Steve could beat Vanessa and it would be crazy to bring a showmance to the final three.
BBN: How hard was it to hide being a superfan of Big Brother and do you think it worked as you planned?
John: I knew every single thing that Steve and Jason talked about all season and it was really hard to not talk about it! My story was I watched 16, 15 and then 14, up through Britney's eviction. So, anytime there was a conversation about anything beyond that, I had to act like I didn't know what they were talking about which was really hard. Super fan talk was probably about a third of all the conversations that went down in the house.
BBN: Would you take back any of those thrown competitions?
John: I wouldn't take back any of the thrown competitions. I think those all worked out in my favor. I would have liked to win more of the competitions I was trying to win.
BBN: How much were you freaked out by the dental theme of the Have-Not and possibly causing Houseguests to suspect you were part of a twist?
John: People thinking I was a twist didn't even cross my mind until Steve told me toward the end of my game.

When I first saw the Have-Not room it was awesome that people got to experience the fear of the dentist office right here in the Big Brother house and I felt like I was back at work. I was glad that we had that uncomfortable experience. The one thing that ticked me off all season was the upside down tooth models! I also got the little shop of horrors reference with the little venus flytraps.
BBN: Which two Houseguests do you most hope to see sitting together at the F2?
John: Vanessa and Steve. They played better.
BBN: What is the biggest mystery you're anxious to have answered once Big Brother 17 is over?
John: I want to know what Da'Vonne's real job was and I want to know who was casting those weird votes the first couple of weeks. I also want to know why the Big Brother takeover of a new twist every week, was not every week. And how Jace is doing!
We'll see John again on the season finale episode Wednesday, Sept 23rd where he'll be in the running for this season's America's Favorite Player.
Watch our preseason interview with John to see how much his game progressed from that original strategy.