After a long, long endurance competition night the Houseguests spent most of the early day sleeping away and resting up their tired bodies. Now with only three players and two pitted against each other with Vanessa in the middle we're likely to see only light talk for the remaining days.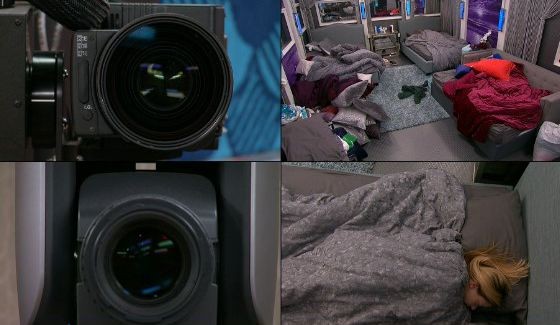 Game talk was indeed light as Vanessa has each side afraid to tell the other anything, but we'll have to see how things change when the next part of the final HoH arrives later this week. For now the HGs passed the day napping and chatting. Yep, it was a quiet one.
Big Brother 17 Live Feed Highlights – Thursday, September 17, 2015:
8:55 AM BBT – Lights on & HGs are up getting ready for lockdown in HoH.

11:45 AM BBT – Feeds return after several hours of Loops. HGs were recording the Memory Lane episode for Sunday's show.

12:30 PM BBT – HGs sleeping. Cameras moving around the house look at various objects to keep us entertained.

3:15 PM BBT – HGs up from their naps. They discuss how much their bodies hurt.

3:40 PM BBT – Steve is studying Skittles.

4:24 PM BBT – Steve announces they did Memory Lane this morning and then runs through a lot of shoutouts for Big Brother sites including ours. (Thanks again, Steve.)

4:30 PM BBT – HGs discussing the tattered state of their privates after nearly four hours on last night's competition.

5:10 PM BBT – Liz and Steve having a general chat about the season and evictions.

5:30 PM BBT – Steve is alone studying or doing strategy Skittles while the ladies rest.

6:15 PM BBT – It's still all Steve. He's doing Steve things.

7:00 PM BBT – Steve wakes up Vanessa per her request. Vanessa complains that she's in pain from the first part of the final HOH competition.

8:35 PM BBT – Steve and Liz play Jenga. Liz is also in pain and tells Steve she is not looking forward to the next phase of the final HOH because of the pain she is in from part one.

8:45 PM BBT – Liz's favorite Beatles song is "Hey Jude."

9:05 PM BBT – Liz is worried the competition is that night.

9:08 PM BBT – Vanessa advising Liz on what to be studying for part two. She tells her to know the order of evictions and nominations.

9:20 PM BBT – Steve is again using candy to remember events in the game. Steve seems to be more prepared than Liz.

9:58 PM BBT – Liz feeling slighted starts studying along with Steve. She's studying the memory wall while Steve is busy with his candies.

10:38 PM BBT – For some reason Steve is helping Liz study.

11:04 PM BBT – Steve goes to shower and Vanessa tells Liz she'll help her study on the DL. Liz goes to make sure Steve is actually taking a shower.

11:15 PM BBT – Vanessa and Liz are running through past events.

11:30 PM BBT – Liz is studying away to be ready for Round 2.

12:00 AM BBT – Vanessa checks in on Steve's studying and gives him some encouragement.

12:30 AM BBT – Houseguests are all turning in for the night. Big days ahead.
Steve and Liz are doing lots of prep to be ready for the next round of the final HoH. We'll wait to see if it arrives on Friday or Saturday. Can't wait to see what happens there!
You can watch all of these Big Brother events using the archives Flashback, the DVR-like feature of this year's Live Feeds which means it's always live, even when you missed it! Sign-up now to get the free trial to watch it all live & uncensored.
click images to see full-size