The Big Brother 16 Feeds were having some extra downtime that left us wondering what was going on. Turns out Jeff & Jordan are engaged and came to the Big Brother backyard to film a segment.
Jeff excitedly broke the news on Twitter saying "Why are the live feeds off…. Maybe cause of this…. SHE SAID YES! Thank you sooo much @CBSBigBrother." Check out the full size photo of their engagement celebration complete with champagne, family, friends, and BB16 Houseguests.
click photo to see full-size view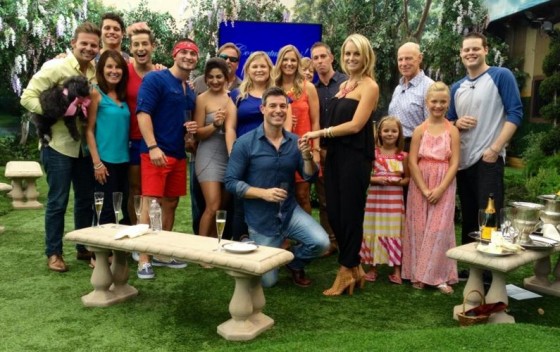 Congratulations to Jeff Schroeder and Jordan Lloyd on their engagement. It's been a long time coming for sure, but it finally happened.
CBS just released a photo of Jordan's ring as well. Looks great. What do you think? Click the thumbnails to view the full size photo:
When Julie Chen announced that JeJo would be back on Sunday's show we knew this was going to be about their engagement. Jordan had given Jeff a September deadline and the clock was ticking down so looks like Jeff wasn't going to let her get away.
HGs discussing it now and suggest Jordan was surprised, but I don't think that's possible. If we knew they were going to announcement their engagement, then surely she knew too, right? Either way, that's fun news for them.
Check out these pics from when JeJo went on their trip to Australia last year:
click images to see full-size view