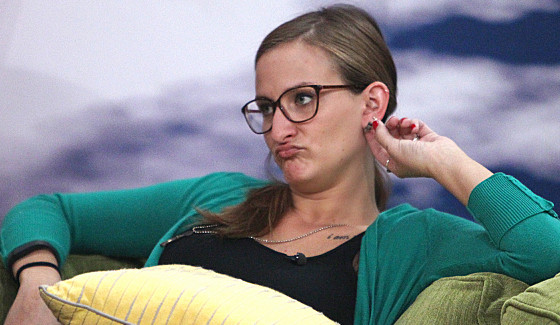 Christine Brecht played an interesting game on Big Brother 16. She was part of the two biggest alliances of the season and noted both fell in to her lap, but at what cost did she stick with them? Well I guess it was at the cost of being evicted by the guys she supported while betraying her personal allies in the game all season.
It was tough to come up with questions for Christine that weren't in the vein of "what were you thinking?" and "why in the world?", but I'm sure those are questions she'll be asking herself those for some time to come. So what lessons and experiences did she take away from her time on Big Brother? Let's see what she had to say.
Matthew Boyer – Big Brother Network (BBN): Were you concerned at all during the Double Eviction? You didn't seem to campaign or fret the situation too much.
Christine Brecht: I knew that if I was going up, I was going home. So there was no reason to campaign at that point. I said what I had to say during the week.
BBN: What did you think of the Big Brother Rewind twist that Julie revealed in front of you? Who might that help the most?
Christine: Ooooh! I thought that was very exciting and I think it might help Frankie the most.
BBN: When Nicole returned did you give serious consideration to reuniting with her or was that bridge too badly burned?
Christine: The bridge was burned, at that point I knew I couldn't trust her enough to work with her again so I didn't try.
BBN: As a superfan and knowing Big Brother history, why did you feel comfortable sticking with an alliance of all guys?
Christine: That's a good question! You always assume you'll be the different one.
BBN: After the Zingbot Veto you expressed great concern over public perception of your affection towards Cody only to immediately resume doing what brought on that Zing. If you were worried about it, why didn't you stop?
Christine: It was all a part of my strategy, so I couldn't have just cut it off, it might have been a detriment to my game.
BBN: If you had one do-over in the game, what would it be?
Christine: Not working so closely with Frankie from the beginning.
BBN: If you could send the entire house a message in a bottle from the Jury house, what would it be?
Christine: Get Frankie out now or he is winning.
BBN: Who do you hope to see make it far in the game?
Christine: I guess I'd like to see Caleb at the end.
BBN: What will be your favorite memory from your time on Big Brother?
Christine: Getting to play all the staple competitions.
BBN: Thank you, Christine. We'll see you on finale night.
Watch my preseason interview with Christine Brecht & see what she had to say before she entered the house this summer: