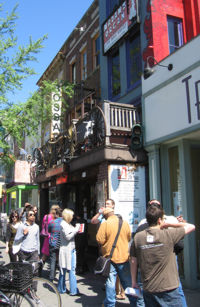 Every preseason of Big Brother is peppered with the same question, "what does it take to be cast?" Luckily for those asking, this past weekend amidst the height of Big Brother 12 casting, I had the chance to sit down with Kassting Inc.'s Senior Casting Producer, Tedd, to find out the "do's and don'ts" of getting on the best reality show ever, Big Brother.
Tedd has been part of the Big Brother casting process since season 2 so it was pretty much like talking with BB royalty when you consider he's had a decisive role for the past decade in my favorite summer past time. If anyone knows how to get a spot on the couch in front of Julie Chen then it's him. So get ready because you're about to read the guidance I took away from a top authority when it comes to being cast and getting your key to the house.
What advice would you give to Big Brother applicants?
Be yourself. This was the most frequent piece of advice given out at the audition. Relax, stay comfortable, and just be yourself. Don't overthink it. One person at the audition was frantically asking every question under the sun. "Can I talk about this?" "Am I allowed to… ?" "What about if… ?" Deep breath, buddy, it's going to be okay. I know it's nerve racking. heck, I was nervous when I first got there and I wasn't even trying out, but you're in good hands with this casting crew so don't worry. They'll tell you everything you need to know.
Don't go in to the audition with a scripted speech. They want to see who you are and discover for themselves why you'd be great. Don't push your angle on why you'll boost ratings or why you're the next Evel Dick. Kassting Inc. producers are pros at putting together the best casts, so show them who you are and they'll know what to look for.
Which is better: mail-in apps or in-person auditions?
Equal weight. I was assured that ALL video applications are reviewed and considered. If you send in a tape then casting will watch it. I promise.
Will applicants increase their chances by attending more than one audition? What about mailing in multiple applications?
One and done. You're welcome to go to as many audition events as you'd like, but once they've seen you then you're all set for the season. Same goes for the mail-in applications. There's no need to send multiple submissions either since they definitely review every tape (see the above question). If you've attended a casting event or mailed in your video then you're good to go for this season.
Are you looking to cast a certain style, personality, age, etc.?
Anyone could make it. They're looking for the best applicants. One region of the country isn't any better than the next (so don't go flying to the Alaska audition thinking you've got an inside track!). Young or old, you've got a fair chance.
What approach gets the most attention?
Gimmicks, but don't be gimmicky. Showing up in Jen's red leotard will catch attention (yes, it's happened more than once) but you'll be remembered for that rather than who you were. I asked this question thinking I might get a golden nugget for you, my faithful readers, but instead it was a really good reminder of what they're seriously interested in: the real you.
How soon after an audition or mail-in application could someone expect to hear back?
Anytime from now until the day the houseguests enter the front door. I know a lot of applicants are disheartened when they don't hear back in the first 24, 48, 72 hours, etc., but be patient. There's no magical window of time that will tell you whether or not you've been selected. Tedd really stressed that things stay fluid until the game starts so take a deep breath, go ahead with your life, and keep an ear out for that call.
What is the worst thing an applicant could do that would ruin his/her chances at being cast?
Talking about the casting process. I heard it over and over at the audition, after you audition your mouth should be a steel trap. You tell your best friend, who tells his best friend, who tells her best friend and then suddenly it's everywhere and your shot is over. Revealing anything will disqualify you. Don't even think you're sneaky enough either because they have a dedicated team of "searchers" who are checking things out everywhere. It's okay to be on websites like this (phew!) but seriously, DO NOT discuss anything about your audition, call back, or anything else.
Another no-no is to lie on your application. They'll run background checks and discover anything you're trying to hide. Being honest goes hand-in-hand with being yourself on this one.
What if you don't get cast this year? Give up or try again?
Keep trying each season. If they like you they'll push for you in later seasons. Tedd told me he pushed several seasons to get one of his casting favorites on the show only to then see him be the first evicted! Just because you didn't make it one year doesn't mean you won't get on. Evel Dick tried out for at least 5 years!
So after all of that do you think you've got what it takes? You've still got time but the deadline is quickly approaching and the final casting events are almost here. Best of luck out there and if you make it then you can thank me with a shout-out to best Big Brother site, Big Brother Network!
Huge thanks to Tedd and Sierra from Kassting Inc. for the awesome opportunity to be a fly on the wall at the DC event and the patience to answer all my questions!