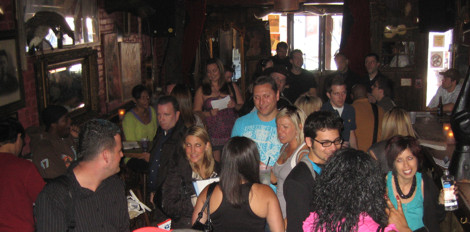 When I saw that Kassting Inc. would be holding a Big Brother 12 audition event in Washington, DC, I decided it was finally time to pull back the curtain and see what one of these events was like. Along with the seasonal question of "how do I get cast," I'm often asked, "what should I expect?" Honestly, I hadn't a clue so I thought this would be a great chance to see just how the initial casting process worked. Luckily, when I checked with Kassting Inc.'s Senior Casting Producer for Big Brother, Tedd, I discovered that he'd personally be there and working the event so I knew this would be an ideal chance to visit.
I arrived at the audition location, DC's own Madam's Organ (it's in Adams Morgan, see what they did there?), about an hour before the event was set to begin and I found there were already more than a dozen Big Brother hopefuls lined up outside the bar. I snapped a few pics and then sat, waited, and watched. As more people started arriving, the crowd continued to get friendlier and friendlier. People were sharing stories about what brought them there and wishing each other luck. You'd think there were enough spots on the show for everyone considering how absent the attitudes of competition were amongst the applicants.
The first sighting of Kassting Inc. came just a few minutes ahead of schedule when Sierra, a Casting Associate, came outside to welcome the crowd. She brought out printed numbers and "small apps" which looked to be abbreviated applications for anyone who forgot theirs. Sierra walked the line and chatted with those who had questions, even encouraging those who came just for moral support to give the audition a try. When she had made her way through the crowd I introduced myself and was allowed to come inside and meet with Tedd.
While Tedd graciously answered my "how to get cast" questions (you can read that entire interview as well), the crowd of applicants began to file in to the bar area. Madam's Organ is set up with a few different floors with the bar being on the entry-level. The auditions were held on the second floor at the back of the room so there was plenty of privacy. After we had talked for a while, Tedd and Sierra invited me to stick around and watch the process, which I excitedly accepted.
I grabbed a beer from the bar where a few of the applicants were seated I started to chat up the Big Brother 12 hopefuls. I was asked not to record names or personal details, which was fine by me because of the strict "do not discuss your casting process" requirement given to applicants. I was, however, okay'd to have general, anonymous discussions with those at the audition. Much like I had seen outside, the attitude was excited and happy. Most people were relaxed and just having a good time hanging out with one another like old friends.
When the auditions were set to begin, Sierra called over the first three numbers. Each individual went upstairs for his or her "mugshot" with their number for later reference. Then everyone came back down and went one by one to talk with Tedd as their numbers were called. As they waited, Sierra worked as a sort of "warmer" by having small talk and answering any questions they might have. She worked to put applicants at ease by informing them that she was the meanest person they were going to meet during the process. Considering she was being ridiculously kind and friendly to everyone, they didn't have anything to worry about.
While the Big Brother hopefuls waited their turn to interview with Tedd, I had the chance to talk with some of them. Most were anxious but enthused and happy to talk with me. Some applicants had traveled from a few states away and others were on their second or third casting event of the season! I was impressed with their ambition and could hardly fault them for trying so hard. Although most applicants were forthcoming with general details there were a few who locked down immediately. One guy asked if his answers were confidential (of course!) and even then would only comment that "maybe" he had applied before. He then said the smartest thing I heard all day, "the game has already started." He was right! As I looked around the audition crowd, I could see the cliques forming as though it was already the first night of Big Brother 12. Those in line even admitted to mini-alliances of support. These were true Big Brother fans.
The process was slow with each applicant having roughly two minutes with Tedd and over 50 applicants already in line. After a few hours, I took a lunch break to go over my notes and get a chance for some fresh air. I came back to the auditions with just 15 minutes left to go. Sierra was down to her last three applicants from a once near-full room only an hour before. She explained that as time goes on at the auditions they start to group up the applicants and so they had been going two at a time to make sure everyone had a chance before the event ended. We talked about the pros and cons of a group meet with the interviewer. While I ultimately felt a solo exchange would be the best, Sierra made the smart observation that this is a social game and a group interaction would give insight to just how you might be in the house. I had to admit this made a lot of sense and really could be a better way to go.
When the last group of applicants had finished with Tedd, I asked for one last chance to chat with him. Sierra checked and said I could come on back to meet him. It was like going to meet the Godfather! I had been so caught up in the initial rush when I first arrived that I hadn't taken it in, but heading up the stairs and through the dimly lit bar to the interview area, I was seeing just what it felt like for the applicants. I posed a few more questions to Tedd while looking for a glimmer of hope for the DC team but was reminded he couldn't answer that. We did get a chance to talk as one Big Brother fan to another and I was thrilled to know that the Senior Casting Producer for my favorite reality show took it as seriously as I did. He too is a die-hard fan, and he shared his moments of yelling at the screen when his favorite fell behind or made the wrong alliance. Knowing that Tedd not only had a professional investment but also a personal one in the show was comforting because of his dedication to making sure we got the best cast possible each season.
Sierra came back to let Tedd know that another last-minute straggler had just arrived. Glancing at his watch, Tedd admitted there were still a few minutes left before the cut-off time and agreed to do the final interview. I thanked Tedd and Sierra for the incredible opportunity to sit in on the process and excused myself so the last applicant could have her chance, because who knows, she could be the next Jordan, Janelle, or, shudder, Chima!
My afternoon at the Big Brother casting event in Washington, DC, was awesome. Having been a fan since season one, I had always been curious just how the cast was selected and brought together. Kassting Inc. afforded me that chance to be the kid in the candy shop and watch it all take place. Tedd and Sierra were the utmost professionals and had exactly the kind of attitudes towards the applicants that I would hope for if I had the guts to apply! To all the Big Brother casting conspiracy theorists out there who think each season is filled with plants: the process is real and the people are authentic.
Now the only thing left to do is sit back, relax, and wait for that "casting is finished" announcement from Kassting Inc.!
Another huge thanks to Tedd, Sierra, and Kassting Inc. for the chance to pull back the curtain on Big Brother casting and share this story!