Donny Thompson was a leading fan favorite and definitely ruled our popularity polls for the past several weeks. It was a loss for fans to see him walk out of the Big Brother 16 house on Thursday, but even Donny admitted his challenge was insurmountable.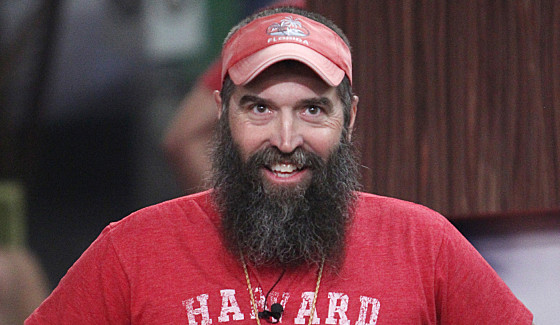 Now that he's out of the house and free from the Team America mission I wanted to get his thoughts on the season's twist and its impact on his game. Plus we also asked Donny who he would have targeted, who he hopes to see win it all, and much more.
Matthew Boyer – Big Brother Network (BBN): As a superfan of Big Brother, how did the experience compare with your expectations?
Donny Thompson: It was all I ever thought about and then some. It was a lot better than you can think and a lot worse than you can think.
BBN: Your social game was often quiet and reserved. Was that always your plan or a result of an early incident in the season?
Donny: If you would have polled everyone in the house on who they liked, I would have probably been on the top of most of their list. Just because I wasn't loud and talkative doesn't mean I wasn't playing a good social game. I was going in trying to be likable and let people come to me, so that was my plan.
BBN: If you had stayed and won the next HoH, which two HGs would you have nominated?
Donny: The leaders of the big alliance.
BBN: How do you feel about the Team America twist? If you could rewind & had a choice, would you do it again?
Donny: I was personally flattered to be chosen for Team America. But to be put with these two people that I would not have personally chose to work with made it more difficult.
BBN: What do you think was your best game move & what might have been your worst move?
Donny: My best move was in week one, winning the Veto competition "Miami Lice" with the word "Splitters." I was definitely the main target and would have gone home that first week.
My worst move was getting into a heart-to-heart conversation with my arch-nemesis Christine about a week ago about how I thought things would play out, and she even offered for us to potentially work together. And then she went and told everyone about our conversation.
BBN: Who do you HOPE will go far in the game?
Donny: I would like Nicole to go as far as possible, but of course she is outnumbered. If she joins me in the jury house, I will be going for Cody or Caleb because they are good-hearted people.
BBN: What will be your favorite memory from your time on Big Brother?
Donny: The Veto competition during the Double Eviction episode. I twisted my ankle and still beat Beast Mode Cowboy, Zach Attack, Hayden and Cody! Four of the youngest, fittest guys in the house.
BBN: If you were asked back for All-Stars 2, would you return to the Big Brother house?
Donny: After recently being evicted, and still recovering from that, I'd have to say it wouldn't be anytime soon. But I still love the game!
BBN: What's next for Donny Thompson? What are you are most looking forward to after the season is over?
Donny: Seeing my family and my beautiful girlfriend, Kristine. I had to resign my position at my job, and I'd love to confirm that I will have that position back again because I love working as a groundskeeper and that's my life.
BBN: Thank you, Donny! We really enjoyed you as a Houseguest and hope maybe we'll get to see you in there again.