This week on Big Brother 16 another Double Eviction live show is heading our way and I can't wait to see who falls victim to the most intense episodes of the season.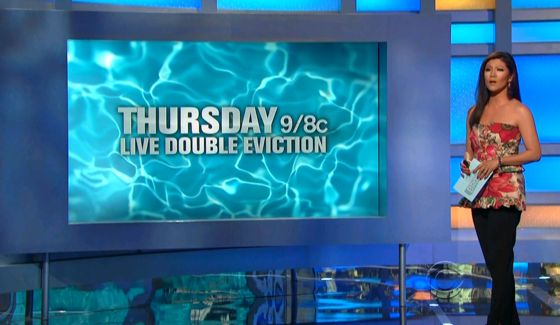 Julie Chen revealed last night that we'll be enjoying another double dose of Big Brother coming next Thursday when two more Houseguests will be eliminated as the House races through an entire week of BB16 fun in one fast paced hour.
Last time around during Week 6 we saw Jocasta out the door followed by Hayden after he took "a seat next to your girlfriend." It was a hectic night where Donny pulled off a surprise Veto win and beat out the guys to stay safe while Hayden got caught in the crossfire.
Now that Donny is gone the target is shifting in a new direction which could mean we'll see two ladies leaving the house this week. Of course it wouldn't be a Double Eviction if someone didn't get a blindside before the night was over and we could end up with a shocking result.
Next Thursday's live Double Eviction will air at 9PM ET/PT and is the last Thursday night live show of the season. After that the Big Brother 16 schedule changes over to include Tuesday nights with eliminations on Wednesday due to the Thursday Night Football events.
Who do you hope to see evicted in the upcoming Double Eviction episode? Share your thoughts!