Clay Honeycutt was evicted from Big Brother 17 this week after giving up his game and asking other Houseguests to send him home over his showmance partner Shelli.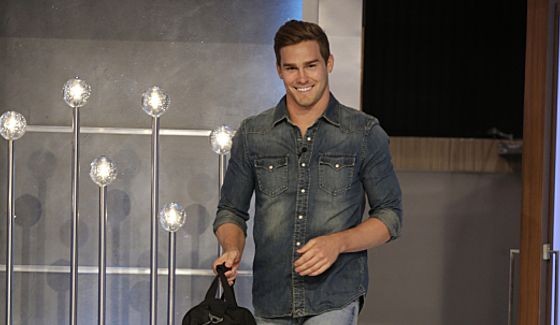 Clay's eviction marked the last player to not make it to the Jury stage of the competition which means while we will see him again at finale he won't be deciding who takes home the $500K prize he walked away from.
Update: Clay shares a fan Q&A with Pop's Big Brother After Dark:

I talked with Clay today about giving up his game for Shelli, or as he prefers to call it "sacrificing" his game to keep her in the house. Find out about the comments he made of Meg last night to Julie Chen and what was going on with the decision that lead to their downfall last week.
What made you decide to give up your game for Shelli?
Clay Honeycutt: I really don't want to put it as giving up. One of us had to leave. Honestly, I was on the fence about it then we were talking about the messages we left for ourselves at [press junket] day. She told me how emotional she got doing hers because she was finally here and it meant so much to her to finally have this opportunity and has wanted this so bad for so long.

I didn't want to be the person to take that away from her. It was very unfortunate for us to be on the Block together. You know, one of us had to go and I sure as hell can't campaign against the girl.

So, you know, I made my decision and I sure as hell don't think it was giving up. It was a sacrifice more than anything and you know what, I'm okay with that. I can sleep knowing that what I did was for her and an act of unselfishness.
No regrets on that waking up this morning?
Clay: Waking up of course I wanted to be in the game. I don't know what would have been worse: me being in the game without her or me being out of the game.
Was there any time this week when you had second thoughts on not campaigning to stay?
Clay: It was kinda one of those thoughts you don't want to think about. You knew it was coming up and a decision had to be made. You kept pushing it off and pushing it off. My decision was pretty much made the night before when I had this conversation with her about how much this has meant to her.

Not to say this hasn't meant a lot to me because this has been an extremely awesome experience. I've been extremely blessed to have this.

I think that we were on the Block for unfortunate reasons and I didn't think she should pay the price for that. She's been an extremely loyal player and an extremely honest player and very trustworthy. That got her on the Block.
As for getting on the Block, 2 weeks ago Clay & Shelli were sitting pretty in the house right down the middle of it. Then the Jason renom happened and things went downhill from there. Why did they deny involvement in that plan?
Clay: It's not that we denied it. We did initially, but we had every intention of telling them our role in this whole situation. We looked back and knew that was our only flaw of this plan was not having a story to say right after this took place. That did bite us in the butt.

We never wanted Jason to leave. We wanted Jason to stay for our own game and for personal reasons. We know now that we should have stuck with the plan and Backdoor'd Austin.
Tell us about the Vanessa blow-up on Thursday afternoon before you were evicted.
Clay: That was completely blown out of proportion. A lot of it was a miscommunication on everyone's end. It all started when I went to Vanessa looking out for her making sure her and Johnny Mac weren't targeting each other. He mentioned to me that he was worried about Vanessa and she would be his next target. I wanted to make sure that they would not target each other.

I guess me doing that and looking out for her bit me in the butt because she of course blew it out of proportion, turned on Johnny Mac, backed him in to a corner.

I just ended up saying I'll take the blame for this and just say that I made it up. I didn't want to throw away Johnny's game. I tried to take as much blame for that as I could.
Why did you tell Julie Chen that Meg had "her fair share of showmances with pretty much everyone in the house" when Julie brought up the flirting?
Clay: It was a running joke in the house. She is a cool girl. Everyone loves her. She gets along with all the guys.

As far myself and Meg, there was never any type of showmance, romance, or connection there between us whatsoever. She's a great girl. Fun to be around. However, I'm not sure how it was portrayed as far as me and her being in a showmance or having feelings, but that couldn't be farther from the truth.

My comment about her being in a lot of showmances, that's an open joke in the house. She is friends with all the guys in the house. She's close with all the guys in the house. She's a likable person.
Name your prediction for who you think will win this season:
Clay: I know you're going to think I'm biased, but I'm going to say Shelli. I think she has one of the better shots to win this game. She's extremely intelligent player. She knows this game inside and out. She's extremely competitive. She's won two HoHs, could have won a third HoH. I think she has a good chance.

I think her working with Vanessa betters her chance because she's very smart as well and she's going to win comps. Those two aligning with the twins and Austin give them numbers. Those five right there are deadly. I think them sticking together, however if someone like a Johnny Mac went really far or even Steve if his competitions start coming up.
What's next for Clay Honeycutt?
Clay: I'm going back to Texas and spend some time with my family. I'm really looking forward to that. Probably enroll back in school and finish up my masters at Texas A&M.
Fans can follow Clay on Twitter @c_honey25.
Watch our preseason interview with Clay to compare how his season turned out.