Did Vanessa Rousso sink her ship deeper yesterday on the Big Brother 17 Feeds when she launched a new scheme only to have her bluff called and lies exposed in a major house blow-up?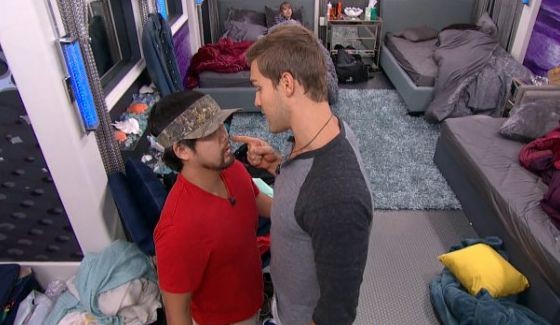 It was easily the most exciting Thursday afternoon that came about most unexpectedly, but then again we've come to expect Vanessa making something out of nothing for little apparent gain.
Flashback to 2:16PM BBT 8/6 as Vanessa and Clay whisper to each other a few last minute trade offs of knowledge. Clay warns Vanessa that John thinks she's coming after him but he wants them to work together after he's gone. From Clay's perspective, he likes John and thinks they'd make a good team. Days earlier we heard Vanessa painting a target on John saying she would not work with John after Steve repeated the same suggestion from Clay.
Okay, that's the background setup. The real fun starts at 2:19 when Vanessa pulls James in to the Lounge and opens with a real zinger. "Do you have something against me personally?" Vanessa asks James. Remember that Vanessa's frequent tactic is to play the victim just as she does here as well. James denies having any personal problems with her but that doesn't stop her.
Feeds return and so does Vanessa who says she's been told that John was warned by James that Vanessa was coming after JMac. James swears on his daughter that he did not say that. He suggests they go get John right now and clarify and moves for the door. Oops, Vanessa. She sputters and you can tell she did not anticipate this reaction. Vanessa back pedals quickly suggesting that they not go get John after all. Too late. She says Clay told her this information and that doesn't make James too happy.
James leaves the Lounge and heads for the bedroom while Vanessa beelines for the far opposite side of the house. Flashback to 2:23PM BBT. Finding Clay, James tells him he doesn't know how much time he has left in the house, but to "keep my name out of your mouth." This earns a "shut up" from Clay to James who volleys the same back.
As the guys continue to argue Clay climbs out of bed and tells James he "better walk the f**k away from me, dude." James asks "are you going to hit me or something?" "I will!" replies Clay who goes right over to James and gets in his face as close as you can without making contact. It's tense. Feeds cut for just a moment as Big Brother may have thought Clay was actually going to do it.
Vanessa returns from the next room where she was asking John about what Clay had told her. Now it's her turn to go on the offensive. She's accusing Clay of lying to her while he insists he's not. Vanessa is trying to get answers out of John who is now in the room, but he's not giving them to her. She scrambles and says she has never, ever gunned for John. Ehhh.
Shelli joins and this is where things get more interesting because Vanessa has fought to keep Shelli but is now going to try and pit her against her showmance Clay. Flashback to 2:30PM BBT. James is upset that he's hearing that he's bullying HGs' votes. He asks John and Vanessa if he pressured either of them on their votes. Both deny. "Uhh, Vanessa, you told me that he did!" says Shelli. Oops.