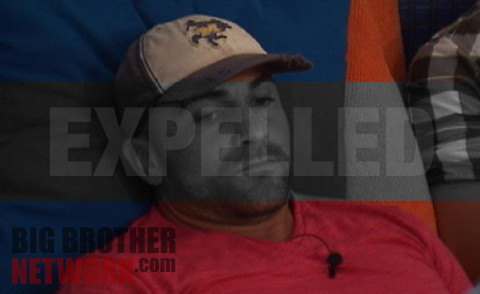 This is not a joke. Willie Hantz is gone from Big Brother 14.
Earlier today Willie Hantz exploded in the house, Flashback to 3:35PM BBT to watch the meltdown begin. After the second Coaches Competition completed and the Live Feeds returned we learned Janelle had won the power and would not be trading. This was Willie's big hope for salvation, for whatever reason. Pouring salt on the wound, Janelle made Britney's entire team Have-Nots. Willie was furious.
Immediately after the Live Feeds returned at 3:35PM BBT (Cam1) JoJo tells Willie that she's sorry, but isn't going down by association for him. Willie tells her that he needs to get the attention off them and is about to make himself go down instead.
Don't know how to use the Flashback feature? Read our Live Feeds Flashback guide.
Willie Hantz marched up to the Big Brother 14 HoH room (3:45PM BBT Cam1/2) and declared he was "going to get evicted this week before I get out that door." Joe interpreted this as a threat of violence. Everything fell apart from there. Boogie started jokingly calling for the in-house on-call shrink. Willie then went back downstairs and told JoJo he was "going to get in a fight and knock somebody out."
Shortly after that the Live Feeds broke away to Trivia. Four hours later the Feeds returned and the house was down one Willie. You can still use Flashback to rewatch these events on the Feeds as if it were Live so get the Free Trial right now.
We're still collecting details on the exact events leading up to the Willie Hantz Big Brother 14 eviction expulsion, but we'll continue to update as we go.
Willie's former teammates Shane, JoJo, and mentor Britney were collected in the Have-Not room. They all were angry with Willie and all confirmed through comments that Willie is gone "forever." Turn on your Live Feeds or get the 3-Day Free Trial right now and start watching to see how the house is reacting to this shocker!
Okay, discussion on the Feeds indicated Willie headbutted Joe. That'd be all it takes to get thrown out of the house permanently. We're also hearing from JoJo that Willie is banned from the Big Brother 14 finale. I guess I won't be talking to him again.
More info thanks to Ian. Flashback to 9:10PM BBT on the Feeds. Willie kicked a door, dropped lots of cursing, threw pork rinds at Janelle, called her a "bitch," and headbutted & chest bumped Joe in the bathroom. Joe was told to stay in the bathroom. Willie was called to the DR. Janelle said "bye, bye Willie." Allison Grodner came on the speakers and HGs were told the game would go on without Willie.
Note: There's a big difference between being evicted and being expelled, or thrown out. Once expelled there is no chance for return at any point in the season. Willie won't be invited back for the finale or any future seasons. It's even suspected that Willie's return trip was entirely on his own dime. CBS rightfully dumps expelled HGs out on the street.
Here are a few of the final images of Willie Hantz in Big Brother 14.
Click images to see full-size