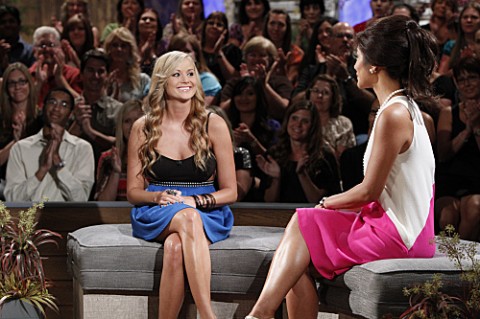 Kara Monaco fulfilled her Big Brother 14 destiny this week as the model evicted second in the season. We've seen it each year since BB11 when Laura Crosby was sent packing in round two. Then Monet Stunson went out second for BB12 and Cassi Colvin for BB13. It's a tough life for the beautiful people, but I think she'll be okay.
Kara might not have lasted long in the game, despite being well versed in Big Brother as a fan since season 7, but she definitely exited in one of the most exciting first weeks we've ever seen. Luckily we had a chance to ask her a few questions after her eviction about her time in the game, the twist, and her team dynamics.
Big Brother Network (BBN): Having watched the show for several seasons, what was your biggest surprise going in and finding out things were different from what you expected?
Kara Monaco: I think it is just a lot harder than you think it is going to be. No one can really understand unless they are in there doing it.
BBN: Preseason you told us your worst fear was returning HouseGuests. How did the twist impact your game?
Kara Monaco: I'm just glad they were not returning to play against us. That was the one thing I didn't want. The twist totally changed the game completely because you are not just playing for yourself. You have your coach too. And, people don't just want to take out players they want to take out coaches too.
BBN: In what ways did having Dan as a coach help your game?
Kara Monaco: I think he helped because he is so smart and a really great player. He is just a really nice guy. I have nothing bad to say about Dan.
BBN: If you could start the season over and the tables were turned, who would you pick as your Coach and two teammates?
Kara Monaco: I wouldn't have wanted any other coach. I wanted to be on Dan's team. I definitely would have wanted Wil on my team and I still would have wanted Danielle.
Kara may have been evicted this week, but I don't think it's the last we've seen of her. There's a good chance she may have another chance at Big Brother 14 as I suspect she's gone to sequester, but we'll just have to wait and see.