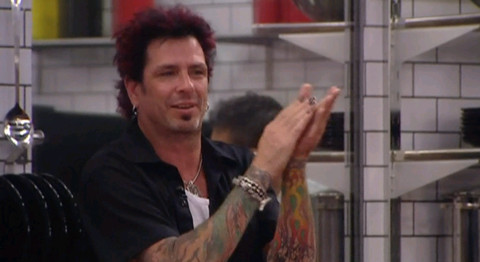 Last night when the Live Feeds launched everyone noticed Evel Dick was no where to be seen (along with the Rachel's nominations). As the night wore on we found out Dick had been called to the Diary Room four hours before the Feeds came on. Slowly but surely Daniele, Dick's daughter, and the rest of the HGs became worried.
Now, in just the past few hours this morning, Daniele was called to the Diary Room where she learned Evel Dick has left Big Brother 13 for personal reasons. As a result, she has earned the Golden Key which will keep her safe until she is only one of ten remaining HGs but she can not compete in any competitions to help her alliance. Daniele stated Dick was already on a plane back to Colorado while earlier in the night other HGs wondered if it could be related to Evel's girlfriend. We have no other details.
Official Update – Well, it's official. Dick is gone. Here's the statement from CBS via EW:
"Due to a personal matter, Big Brother houseguest Dick Donato had to leave the game unexpectedly on Thursday. His departure will be addressed on the episode to be broadcast on Wednesday, July 13."
Evel Dick's Update Evel tweeted a couple of messages last night:
I will be releasing a public video statement on @RTVZone in the next couple days concerning my departure from the Big Brother House

But to squash the rumors, I am not in jail, don't have cancer, my mother son and girlfriend are not in the hospital & I was not kicked out

Don't bother asking me questions, I won't be answering… I will let you know when my public statement is posted on @RTVZone.

Thanks for all the concern and well wishes
Very glad to hear Evel and his friends are okay. We'll let you know when we hear more.
No word yet on if an eviction will still be held this week, but I can't help but feel it's too early to skip major game points like an eviction. I'm expecting the game to continue and production to use this as an opportunity to surprise us later.
Update: There are discussions that Evel Dick was disqualified for posting a video on his site, RTVZone.com. I've posted the video (warning: NSFW language in the final secs) below the break. I do not believe this was the cause of his departure. Evel was going to be a huge boost to the season and I just don't see production cutting off their noses over this. CBS' statement confirms my stance that Dick left by choice, not force.
Evel Dick – Season 13 special message.
Unless anything "shocking" happens and Big Brother manages to work Evel back in to the season it looks like the man, the myth, the legend is gone.
This is a big loss to the game for anyone who didn't watch Big Brother 8. Evel was a polarizing HG but he was highly entertaining. Here's a clip of one of his best moments: pots & pans walk up calls.