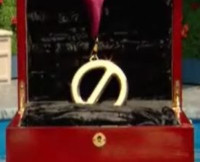 Big Brother 13 picks up steam today in its first week of action in the house and boy have things already been crazy with one HG leaving the game on Thursday. After Rachel revealed her nominations this week it was time for the Veto competition today where the nominees could fight for their chance at safety.
Read on to find out who won and what that means for the game this week.
Big Brother 13 Week 1 Power of Veto results:
Brenchel (Rachel) has won the Veto Competition.
Now Rachel has to decide if she'll keep the nominations as they are or change them up. If things stay the same then it sounds like Keith is headed home this week.
Jump on the live feeds right now to watch the house react. There's still time to get the 3-month discount and save some bucks you can use on the Live Feed Mobile Access.
The players in this week's PoV competition were Rachel as HoH with Brendon as her Dynamic Duo partner, Keith and Porsche as the nominees, and Jeff & Jordan who were randomly selected. Adam played host to the comp.
The Veto ceremony will be held in the next few days, probably Monday, so we'll soon know whether or not the power will be used. Stay close by and we'll let you know as soon as that happens.
What do you think of the PoV Comp results? Should Rachel use it?
Jump on the live feeds and enjoy the drama. Watch it all now live & uncensored.