It's with great pleasure that I introduce our first ever Big Brother HG guest writer here at Big Brother Network: Matt Hoffman. Regulars here know how much I enjoyed Matt's game play last season for his strategic approach and lets-make-this-fun attitude.
I was thrilled when Matt agreed to join us here each week through the season to share his unique perspective about the game. Please give Matt a warm welcome and then look out for his posts all season. – Matt (BBN)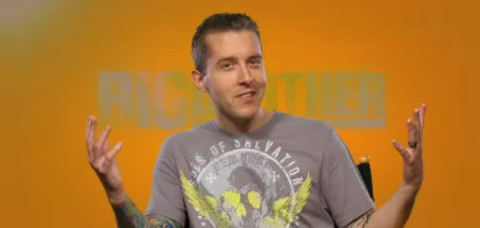 Hello, Big Brother superfans! It's Matt Hoffman from Season 12, and I've been carefully selected to dish my thoughts on this season's episodes to the viewers of the Big Brother Network! With all of the articulate intellects that were in the Brigade (Bra-gade?) with me last summer, I'm quite surprised and flattered that I was the one chosen to pull this duty, so THANK YOU Big Brother Network!
Let's get right into this. It's the Big Brother premiere, which means we get to see all the badass totally-not-staged opening intros. First up…
…25-year-old Dominic. Dominic is a virgin that lives at home with his mom. Part one of Dominic's description is directly related to part two.
Next we meet Cassi. She's a model and drinks beer. I don't hate her as much as I thought I would.
Then we meet Lawon, who I definitely hate as much as I thought I would.
Houseguest #4…Keith! When Keith isn't preaching, he's chasing girls (his words, not mine). Keith makes Jesus cry.
The next person we meet is Shelly Palin, who I pegged from the start to be my least favorite. Shelly does not disappoint in that category. Her philosophy is "look like a lady, and act like a man". This is the exact opposite of Brendon's philosophy, so maybe they should team up?
Up next is AAAADDDDAAAMMMM!!!! We learn very quickly that Adam can scream. Adam was one of my favorites pre-season, but I don't know how much of that yelling I can take. Especially with Rachel's cackle going on alongside it.
Lucky number 7…Kalia. She writes sex blogs. I'm just hoping she makes Dominic a man before this season ends.
And finally, the vile and vapid Porsche – who delusionally describes herself as being the "hottest person everywhere she goes". Which is true, if she spends most of her time volunteering at homeless shelters.
After entering the house and all the annoying shrieking ends, the houseguests sit down to introduce themselves to one another. Keith tells them he's a matchmaker. In the diary room he says that he doesn't want them to know he's an ordained deacon. At home I sit and watch "Human Resource Manager" under his name. Even I, as a notorious Big Brother liar, am thoroughly confused.
Adam screams. Shelly talks about being plain. Kalia rhymes her name with Kahlua, like an alcoholic Dr. Seuss. Dominic talks about being completely helpless. Porsche tells us that her parents' sense of humor consists of ensuring years of childhood ridicule by naming their kids after cars. She also lies to everyone by telling them she's a student when she's really a cocktail waitress. You mean she DIDN'T get into college? Porsche??? No! Lawon carries on the intros by boring us to tears in the best stereotypical homosexual way possible. And Cassi rounds it out by warding off Keith's unwanted perverse advances.
It doesn't take long for the houseguests to look around and figure out that there's more people coming into the house. Even Porsche did the simple math, proving this was a no-brainer. In the midst of conspiracy theories, Chenbot comes in and tells them they need to pair up. Keith's boner-radar instantly hones in on Porsche. Cassi pairs up with Shelly and makes the most useless tandem in Big Brother history. Adam screams out Dominc's name, thus scaring him into partnership. And then Kalia and Lawon become the "fat kid in gym class" who are forced to pair up together because they're the only two left.
Now the moment we've all been waiting for! (well, everyone without internet access who has read all the spoilers, at least) Here come the new houseguests!!! Brendon & Rachel ("Brenchel") from Season 12, Jeff & Jordan from Season 11, and Dick & Danielle from Season 8. I now have literally PUDDLES of vomit around me at the prospect of how this season is already starting off. Dick plays the "crazy old man" card well by announcing himself as the only winner in the house (Jordan???), instantly and awkwardly outing his tumultuous relationship with his daughter, and listing himself as a "Website CEO". I know Dick personally (BECAUSE of the "website" in question…shameless RTVZone.com plug!), and I like him. But Dick calling himself a "Website CEO" is the ridiculous equivalent of Season 10 bartender Memphis calling himself a "Mixologist". C'mon, man…you're not fooling anyone.
Onto the HoH competition where everyone needs to hang from slippery hot dogs. Oh no, wait – that was last season's first HoH competition. This season is COMPLETELY different (as we all know, Big Brother would NEVER recycle competitions), and the cast has to hang form slippery BANANAS. Nothing like blatant phallic innuendo to kick off your summer family-time programming each year, right CBS?!
The newbies all want to gang up on the returning houseguests to get them out of the house. They use their super-powers of supreme boredom to try and make the old players fall asleep and drop from the banana, but since Rachel was on Season 12 she is totally immune to boredom and she wins HoH.
Just when we think we've gotten as twisted up as we can get, Julie Chen pops on the screen dressed like M. Night Shyamalan and tells them about some "Golden Key" thing that saves people for four weeks. I hope this Golden Key is constructed better than last year's Diamond Power of Veto or else these people won't even HAVE the thing for four weeks. As this first episode comes to a close, we are left to (say it with me) "eavesdrop on the houseguests" as they all put their pea-brains together to try and understand the convoluted rules this season.
Live feeds come at midnight after the premiere, and my prediction is that (after almost 6 days of being in the house) they will flip on to show everyone still in the living room trying to understand what's going on.
Until next time, superfans!…

For more of Matt Hoffman's ramblings follow him on Twitter @HeadOfHoffhold and stop by www.TheGremlinCave.com. Also, be sure to check out Matt's video recaps of the Big Brother season on www.RTVZone.com (@RTVZone).