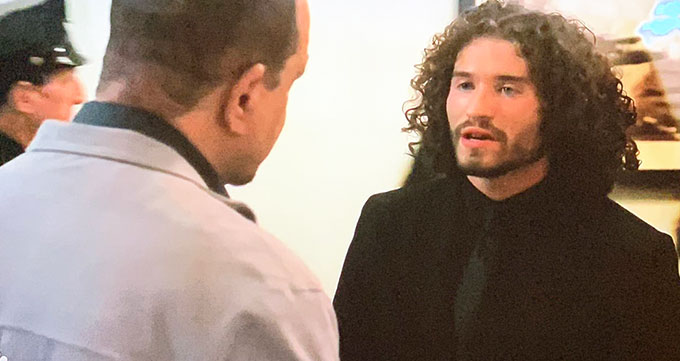 Yes, that was Big Brother 23 houseguest Christian Birkenberger you saw on last night's "Law & Order: Special Victims Unit."
Several Big Brother fans who missed Christian's prior announcement that he was making a return to television last night took to twitter to ask "Was that BB23's Christian on SVU"? Indeed it was. Christian played a doorman at a New York City sex party gone wrong, and had scenes with Ice T and Molly Burnett.
Christian had a little watch party during the airing Thursday night, and those clips can still be seen on his Instagram story (@christian_birkenberger).
"It has been a long, long time since I've appeared on your TV screens. Last time it was unscripted, me just playing myself. Today's a little different. I do have lines. I'm playing a character… from CBS, all the way to NBC …"
If you missed Christian in "Law & Order: Special Victims Unit" season 24, episode 6: "Controlled Burn," you can check in out on NBC's streaming service Peacock.
"I can't stop smiling," Christian says on his Instagram story. "Thank you to everybody who captured the moment, either recording it, or who supported me by texting me or messaging me. I really, really appreciate it. I work so hard. So this feels like it's paying off. This is just the beginning. We've got so much more planned. And I'm not going to stop working hard until I succeed and accomplish everything that I say I am going to."
A lot of things have been happening for 24-year-old Christian since his time in the Big Brother 23 house. He recently released his first single, "For You," written about his fellow BB23 houseguest and now ex-girlfriend Alyssa Lopez.
"Alyssa is extremely supportive of me and my career," Christian told US Weekly. "She was one of the first to know about this song and was hoping it wasn't going to be a 'diss track.' Once she heard the lyrics she fully understood why I was writing it and how it was helping me cope with our situation."