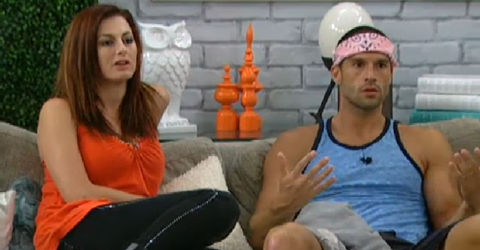 Big Brother veterans Brendon and Rachel just can't seem to get enough of the Reality TV life on CBS. They've appeared on two seasons of Big Brother, season 20 of The Amazing Race, multiple episodes of The Bold & The Beautiful, and now the couple is set for yet another round on The Amazing Race Season 24!
The cast for the currently filming season has yet to be officially announced, but Big Brother's Rachel tweeted a photo of her and her husband Brendon in what appears to be their traveling gear and ready for another go around the world.
Last week spoiler source Miss Cleo caught this photo apparently tweeted by Rachel before it was removed. Looks like Rachel might have had a change of mind after posting the image revealing the pair on the go.
Since then Miss Cleo has added another photo of the Big Brother duo on a trip through China and even a video clip of Brendon completing a task, impressively so, I might add. We'll keep watching for more spoilers and pictures from the couple as they continue to compete. Do you think they can pull off the win this time?
click images to see full-size
Source: @MissCleo_BB15 via Big Brother Access