Big Brother Back On 'Bold & Beautiful' – Pics
|
October 25, 2013 at 2:56 PM EDT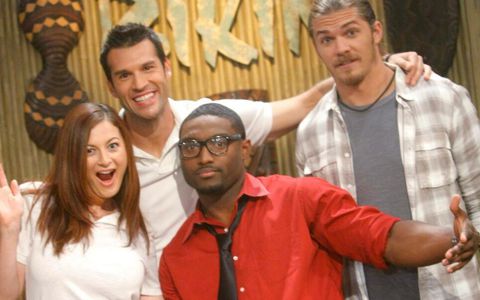 Big Brother Houseguests were back for another day of their "The Bold & The Beautiful" takeover on CBS. After yesterday's appearances and scenes by Elissa Slater and Howard Overby we got even more Big Brother fun when Rachel Reilly, Brendon Villegas, and Jeff Schroeder appeared on the episode.
Howard reprises his role as the DJ at the Bikini Bar while Brendon, the bartender, cheers on waitress Rachel who takes a turn at singing. That Rachel, she's a brave lady! Jeff was once again a silent appearance as he hangs out in the crowd with Survivor's Malcolm Freberg, but doesn't have any lines.
As for Elissa she was no where to be seen, but CBS says she'll be back on the show next week for two more episodes along with Rachel Reilly on Wednesday and Thursday. We'll keep you covered on more pictures and details from those events too.
Check out pictures of Howard, Rachel, Brendon, & Jeff from their scenes:
click images to see full-size views
SHARE YOUR THOUGHTS! LEAVE A COMMENT NOW:
Commenting Rules:
Keep the conversation civil and on topic. If your comment does not add to the conversation or is insulting to others, it will be removed. Debate intelligently. No ALL-CAPS.