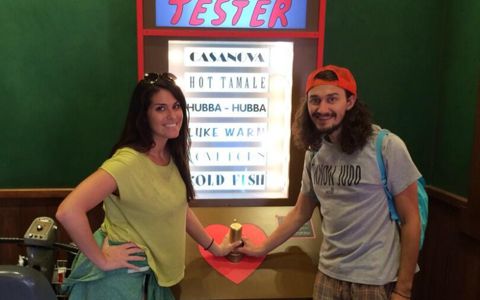 The McCrae Olson and Amanda Zuckerman showmance turned romance survived the bulk of Big Brother 15 this summer, but could it last outside the house and across a great divide? Readers have asked and so we checked. Turns out McCranda are still keeping it together as a couple.
McCrae and Amanda have spent a lot of time together since leaving the BB15 house mid-September. They've gone on road trips, hung out with other Big Brother HGs, and manage to keep catching up to spend time together. Amanda announced on Twitter this week that McCrae was back in town for even more fun together as a couple.
Who knows where their relationship will take them next (the next Big Brother couple to travel to Australia perhaps?), but we're impressed they've made it this far. Most BB showmances fizzle and pop once outside the confines of the house. Heck, even engagements don't make it! So congrats to McCrae and Amanda and best of luck in their adventures.
Check out the gallery below of McCranda pics they've shared:
click images to see full-size view
Update: More pictures added from their get-together this week.

click images to see full-size view
Image sources: Twitter (1, 2) & Instagram (1, 2)